14 Upcoming C.A.T./Justin Rudd! Events
BELMONT SHORE
To volunteer, RSVP to Justin@JustinRudd.com

LONG BEACH LOSERS (12-week team weight-loss contest)
Now til Nov. 15. This team weight-loss contest (youth and adults welcome) has 800+ entrants this year and we expect the jackpot to top $50,000. Five-person teams are competing to lose weight over a 12-week period. Weigh-ins are each Wed. at Polly's Coffee on 2nd St. in Belmont Shore.
Belmont Shore exhibit
"SAY CHEESE LONG BEACH!" 24-HOUR DIGITAL PHOTO CONTEST
On Sat., Oct. 23, 738 of the 4x6 images depicting Long Beach will be displayed outdoors in front of Chase Bank on 2nd St. @ Nieto Ave.). The public is invited to view the exhibit at no charge. There were 117 seasoned and amateur photographers who spent Aug. 28 & 29 all over Long Beach immortalizing our city through digital photography. Almost 1,200 images were submitted. Each participant was welcome to submit 10-12 images to be judged for the contest and to be considered for the exhibit. A photo book is expected to be created with the images after the exhibit.
30-MINUTE BEACH CLEANUP (3rd Sat. of each month)
Sat., Nov. 20; and the third Sat. of every month at 10 - 10:30 a.m., rain or shine. 1 Granada Ave. Free parking, bags, gloves, refreshments and door prizes.
INTERFAITH BLESSING OF THE ANIMALS, adoption fair and dog contests
St. Francis Day weekend, Sat., Oct. 2, 2010, Marine Stadium, Long Beach.
- Pet adoptions and vendors: 10 a.m. to 2:30 p.m.
- Ugly Dog & Cute Dog contests, 11 a.m.
- Interfaith Blessing of the Animals, noon; FREE
- Chihuahua Beauty Contest, 1:15 p.m.
- NEW Most photogenic dog; bring 2 photos, 1:45 p.m.
- NEW National Mutt Show, 2 p.m.
Register online now for FREE
$1,000 BELMONT SHORE SIDEWALK CHALK ART CONTEST & ART WALK
All day til 4 p.m. on Sat., Oct. 23, 2010, Approx. 100 seasoned and emergent visual artists, including participants from local high schools and universities will use the sidewalks of 2nd St. to display their drawings.
HAUTE DOG HOWL'OWEEN PARADE
Sun., Oct. 31, 2010, 2:30 p.m. parade on the sidewalks of 2nd St. The pre-parade entertainment, vendors and adoption fair will be held at Livingston Park, Belmont Shore. It's the biggest Halloween pet event in the World! As many as 700 dogs compete each year.
SOCAL KIDS' HALLOWEEN COSTUME CONTEST
Sun., Oct. 31, 2010, 2:25 p.m., Livingston Park. Cash prizes. More than 200 entrants in the annual event.
MISS LONG BEACH & MISS SOUTHERN CALIF. PAGEANT
Nov. 7, 2010. Four categories: Little Miss, Teen, Miss, Mrs. Eight titles will awarded. $1,000 appearance contracts to winners. The pageant will be held a The Grand Long Beach Events Center. Swimsuit, personal interview and evenging gown categories.
LONG BEACH TURKEY TROT 5K/10K AND KIDS 1/2-MILE WINGDING
Thanksgiving Day, Thurs., Nov. 25, 2010, four start times: 7:30, 8:30; 9:30 and 10:30 a.m. for 5K/10K runners and walkers; the kids Wingding is at 8:10 a.m. Start/finish: Belmont Olympic Pool. Pies to random finishers! (est. 6,000 runners and walkers)
OPERATION SANTA PAWS
This year, Operation Santa Paws takes place Dec. 1 - 17, 2010. Deliveries will take place on Sat., Dec. 18 all across the U.S. It's an annual collection of pet toys, shelter supplies and treats that are delivered to more than 4,000 shelter and rescue dogs and cats here in SoCal.


See details below about the amazing amount of things that CAT has accomplished this past year. And, please consider a secure, online tax-deductible contribution to CAT as part of your end-of-year holiday giving. -Justin!

click: DONATE NOW

THE MAIN PURPOSE of the Community Action Team (CAT) is to promote social well-being among the general public. CAT is a 501c3 is governed by a board of directors. Contributions are tax deductible and are used to help produce quality events within our community that benefit children, animals, and the environment. Some monies also go towards event permits, insurance, Web hosting, refreshments, prizes, printing, advertising, salary and office administrative costs.

THE GOAL OF CAT is to implement programs, events, education, support and advocacy that will focus on such relevant issues as youth, education, the environment, our beaches, health/fitness, and animal welfare. CAT's mission is to embrace humanity with care and compassion, while encouraging those around us to explore, dream and discover the tenets of civility, kindness and understanding of all people.

Some notable C.A.T. accomplishments in the recent months:
· More than 3,000 volunteers worked to rid tons of debris at the monthly 30-Minute Beach Cleanups. VIDEO
· Hosted the annual Father/Daughter Valentine's Dance. VIDEO
· More than 300 English bulldogs from three states and Canada came to Belmont Shore to compete in the Bulldog Beauty Contest - the world's largest bulldog event. VIDEO
· Collected and distributed approx. 1,600 essentials-filled Easter Baskets to underserved youth in the Long Beach area through Operation Easter Basket.
· More than 90 elementary students from around the U.S. participated in the $1,000 National Elem. School Spelling Bee. VIDEO
· Hosted the annual Belmont Shore Sidewalk Chalk Art Contest where more than 70 artists, high school and older, participated in the free, seven-hour, "seven-city blocks" contest. VIDEO
· 300+ kids decorated their bikes and rode in the Great American July 4 Kids' Bike Parade. VIDEO
· Continued promotion of L.A. County's first and only off-leash dog beach in Belmont Shore - Rosie's Dog Beach. VIDEO
· More than 50 adults took part in our National Adult Spelling Bee. VIDEO
· Hundreds of dogs got dressed up for the Haute Dog Howl'oween Parade & Pet Adoption Fair - the world's largest Halloween pet event! VIDEO
· More than 150 children entered the $100 Halloween costume contest. VIDEO
· Collected and distributed hundreds of clothing items to deserving families and individuals in the SoCal area.
· Held pet adoption fairs at Livingston Park and Marine Stadium.
· Hosted 800+ overweight contestants in the Long Beach Losers contest where approx. $50,000 in cash will be awarded! VIDEO
· More than 300 animals attended our annual Interfaith Blessing of the Animals to celebrate the bonds and inner connections between humans and their pets. VIDEO
· Justin made presentations about C.A.T. at several local schools, hospitals, businesses and service clubs.
· Hosted the annual Thanksgiving Day "Long Beach Turkey Trot 5K/10K" with approx. 6,000 runners and walkers on the beach bike path. VIDEO
· Distributed holiday toys and treats to 4,000 abandoned/abused animals in more than 40 Southland shelters/rescues & facilitated collection drives at dozens of locations all around the U.S. for our annual campaign for Operation Santa Paws. VIDEO
· Provided thousands of dollars in holiday gift cards from grocery and department stores to dozens of women in local domestic abuse shelters.
· Made Christmas extra-special for dozens of Long Beach-area kids who are underserved and/or dealing with cancer by providing holiday gifts through our annual Bears, Bikes, Beds and Blankets drive.

Costumed Dogs in Howl'oween Parade
Poodles, pugs and other pups pound pavement



600+ DOGS IN THEIR best Howl'oween outfits are expected to return to Belmont Shore for the annual Haute Dog Howl'oween Parade this Halloween at 2:30 p.m. More than 600 dogs in all shapes and sizes helped to raise funds for the local animals organizations, as well as the 501c3 nonprofit Community Action Team (CAT) which benefits local youth, environmental, health and animal welfare projects. CLICK HERE to read more and see some great pics.

THANKSGIVING DAY
Hot to (Turkey) Trot in Long Beach

THE THANKSGIVING DAY 5K/10K Turkey Trot Run & Walk takes place Thanksgiving morning at the Belmont Olympic Pool in Belmont Shore. More than 6,000 runners and walkers are expected to help raise $200,000+ to help further the work of the 501c3 nonprofit Community Action Team (CAT). DETAILS

VALENTINE'S
Father/Daughter Dance

The "Father/Daughter Valentine's Dance" will take place near Valentine's at Bay Shore Church in Belmont Shore. The event is hosted by the nonprofit 501c3 Community Action Team (CAT). Approx. 100 dads, daughters of all ages, and CAT volunteers are expected again this year to dance the night away to the Hokey Pokey, Macarena, The Twist and other party classics that will be appropriately selected by Long Beach resident DJ DanaT (who will volunteer her time and talent for this effort). Last year, more than $1,000 was collected at the door for this annual event held in the community hall at Bay Shore Church on The Toledo in Belmont Shore. DETAILS

KEEPING LONG BEACH BEAUTIFUL
Monthly Beach Cleanups
Volunteer this month?
30-Minute Beach Cleanups
1 S. Granada Ave., Long Beach, 90803
every 3rd Sat./month @ 10 a.m.
THE "30-MINUTE BEACH CLEANUPS" MEET on the 3rd Sat. of each month at 10 a.m. at 1 S. Granada Ave. (@ Ocean Blvd., Long Beach, 90803) in Belmont Shore, to help rid the beach of trash and debris. Free parking, gloves, bags, refreshments, door prizes and good times. MORE

Bears, Bikes, Beds & Blankets
Justin Rudd and his nonprofit 501c3 Community Action Team (CAT) are collecting new (and gently used) teddy bears and other stuffed animals; new twin sheet sets; new twin size bed pillows; new bath towel sets; and new kids pajamas for needy Long Beach area youth during this holiday season. In addition, CAT will be donating fold-up, roll-away beds, bassinets and bikes, from a portion of the proceeds raised at the Long Beach Turkey Trot 5K/10K. In conjunction with the public health nurses of the Long Beach Health Dept., CAT is seeking to get many area kids off their floor each night and in to a warm, cozy bed. To make a tax-deductible financial contribution or to donate goods for this project, contact JustinRudd@yahoo.com .

RED, WHITE & YOUTH
The Great American 4th of July Bike Parade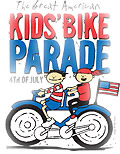 FANCY FOURTH OF JULY harbor cruises, spectacular theme park fireworks shows and lavish community parades have nothing on this simple annual event in Long Beach. The city's Fourth of July Bike Parade & Contest has got to make everyone smile and cheer with its old-fashioned appeal as hundreds of local kids decorate their two-wheelers and ride the sunny beach boardwalk. Red, white and blue streamers, crepe paper, balloons and American flags are on display and $10 is awarded to the top ten young future designers for originality, creativity, spectator appeal, and display of red, white and blue. Parade starts at 10 a.m. on the beach bike path at the end of Granada Ave. in Belmont Shore. CLICK HERE for parade info. --Sheryll Alexander, AOL/Digital City

WINNER TO TAKE HOME $1,000 CASH
Spellers Sought for Elementary School Bee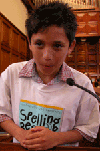 ARE YOU READY to try your skill? Are you a courageous young competitor ready to wrestle with some difficult words? Are you ready for the last word? If you are the best speller at your school and you are in fifth grade (or a lower level) you may be able to enter the championship that is scheduled to take place in Long Beach on a Sunday in March. www.SpellingBees.com