MARK TWAIN once wrote: "Twenty years from now you will be more disappointed by the things you didn't do than by the ones you did. So, throw off the bowlines. Sail away from the safe harbor. Catch the trade winds in your sails. Explore. Dream. Discover."

MY MOTTO IS "EXPLORE. DREAM. DISCOVER."

I WANT TO Explore, Dream and Discover as much as possible in my life here on earth, and I want my Web sites to empower, equip and incite others to do the same.

I WANT TO help folks to find something new and exciting to do and experience. That's why I formed my charitable organization and named it the "Community Action Team"— a name that I feel encompasses all the varied activities and events that I have (and will continue to) organized for the good of our community.

WHAT CAN I DO to help you explore your potential, make a dream come true or discover new frontiers? I hope to hear from you.

Yours truly,
Justin Rudd!


THE MAIN PURPOSE of Justin's Community Action Team (CAT) is to promote social well-being among the general public. As a 501c3 nonprofit corporation governed by a board of directors, contributions to CAT are tax deductible and are used to help produce quality events within our community that benefit children, animals, and the environment.

C.A.T. IS AN UMBRELLA organization that includes
4Halloween Kids' Costume Contest
4July 4 Kids' Bike Parade
4Haute Dog Poetry Contest
4Interfaith Blessing of the Animals
4$1,000 National Elementary School Spelling Bee
4Nat'l Adult Spelling Bee
4Belmont Shore Sidewalk Chalk Art Contest
4Haute Dogs on the Beach events
4Haute Dog Easter Parade
4Haute Dog Howl'oween Parade
4Operation Easter Basket
4Operation Santa Paws
45k/10k Long Beach Turkey Trot
4monthly 30-Minute Beach Cleanups
4Beds, Bikes, Bears & Blankets giveaway to those in need
4Clothing giveaways to the underserved
4Bulldog Beauty Contest
4Mom Prom
4All-day Read
4Say, "Cheese" Long Beach 24-hr. digital photo contest
42nd Street Walkers
4Long Beach Giving Project
4Camp Justin!
4Long Beach Bake-Off


I AM A FIRM believer in the collective power of individuals joined in a spirit of goodwill and generous giving to bring about the success of a community.

-Justin Rudd!
BAKE FOR CHARITY'S SAKE! The Long Beach Bake-Off is Sun., Nov. 1, 2015, at Bay Shore Church, 5100 E. The Toledo, in Belmont Shore. Each of the five category winner's charity or school will receive a $50 check!





"Long Beach Bake-Off" will be a Tasty Success for Charities, Sun., Nov. 1, 2015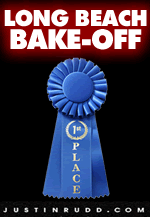 MORE THAN THREE DOZEN bakers are expected to bring goodies to the 5th-annual Long Beach Bake-Off hosted by Justin Rudd and his nonprofit Community Action Team.

Five (5) Categories
• Pies, Cheesecakes
• Cakes
• Cupcakes, Muffins, Cakepops
• Cookies
• Brownies, Bars, Squares

Prizes
Each category winner will receive a blue ribbon and $50 for their favorite school, place of worship or charity. Runners-up in each category will also receive ribbons. Not to mention, you get bragging rights for a year!

Public welcome at Tasting Reception
4$5 per person, cash at the door.
4Reception is free for Bake-Off bakers and 2015 Long Beach Losers.

Judging Criteria
• taste
• appearance
• quality
• first impression

Sponsor
Justin Rudd's nonprofit 501c3 Community Action Team (C.A.T.).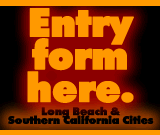 Schedule
• Deliver baked goods, entry form and $5 entry fee to the church hall: 5-6 p.m. This year, during the judging and public tasting receeption, each entry will be accompanied by the entry form that will include the contestants name, city, entry name, and some of the ingredients (the full ingredient list and recipe is not necessary).
• Private judging: 6-7 p.m.
• Long Beach Losers awards/celebration in the sanctuary: 6-7 p.m. (LongBeachLosers.com)
• Tasting Reception: 7-8 p.m. (we encourage all entrants to attend; FREE for Losers and bake-off entrants; $5 for all others)
• Awards announced: 7:15 p.m.

FIRST PLACE winners' favorite local charity/school/place of worship will receive a $50 donation from the Community Action Team. Winner will also get a blue ribbon, and bragging rights for a year! The contest will be held in the concert hall at Bay Shore Church, 5100 E. The Toledo in Belmont Shore.

THE TASTING RECEPTION after the judging is free for bakers in the contest and free for Long Beach Losers, and $5 for all others, payable in cash at the door.

THANK YOU
This event is hosted by Justin Rudd and his nonprofit 501c3 Community Action Team (CAT). CAT is supported, in whole, by funds raised at the Long Beach Turkey Trot 5K/10K and Haute Dog Parades. WEB SITE
Long Beach Bake-Off
Sun., Nov. 1, 2015
Deliver your entries from 5-6 p.m. Tasting reception and awards at 7 p.m.
Bay Shore Church
concert hall, 5100 E. The Toledo, Long Beach, 90803. MAP

PARKING
Free lot on the corner of The Toledo & Livingston Drive. MAP
We also encourage carpooling, public transit, biking and walking.

Quick Links
4rules
4prizes
4entry fee
4entry form
4judges
4categories
4tickets for tasting reception ($5 cash at door)

2015 Judges
• TBA

Entry fee, per baked good
4$5 per entry, payable at the door when you drop off your baked goods (i.e. if you enter a batch of cookies AND a batch of brownies, you will pay $10). Be sure to bring a signed entry form for each baked good you are entering. You will be given a wristband for complimentary entry to the 7 p.m. tasting reception, for each entry into the competiton (i.e. you enter a cookie and brownie, you'll get two tickets to the reception).

Rules & Entry Info
RECIPES MAY REMAIN ANONYMOUS. Entry forms will accompany each dish during the judgeing and during the tasting reception. For example, the entry form will have a place for the bakers' namd and city, name of the baked-good, and a few ingredients (not full recipes).
Example:
• Charlie Brown, Long Beach
• The Great Pumpkin Cookie
• Pumpkin, rolled oats and dried cranberries.
All baked goods in the contest must be made at home (not store bought). No boxed mixes. You may enter more than one recipe. Bring one plate or platter of at least 24 cookies, bars, brownies, cupcakes, etc. with enough to feed three judges and 24 guests at the tasting reception. Cakes must remain whole. Entrants must bring their own serving utensil and cutting knife for their cake. A separate entry form must accompany each baked good. Recipes do not have to be original, but give credit if you are using someone else's recipe. This contest is for individuals, not teams (partners cannot enter together). The contest is open to anyone in Southern California. Decisions of the judges are final in all matters relating to this Contest. Each entry must use baking as the primary method of preparation. Entrants will agree to release the Justin Rudd, the Community Action Team (C.A.T.), the judges, and all who participate in the production of this event from any liability without limitations. Baked goods must be entered in the name of the person who made it. It is possible to win more than one ribbon in each category if you enter more than one baked good in each category. Bring completely decorated cakes and cupcakes. No on-site decorating. Deliver each entry to the concert hall of Bay Shore Church, on ONE plate/platter/dish. Be sure to put a piece of tape on the bottom of your serving plate/platter/dish and write your name/email/phone/division/category on the tape/index card, so we can make sure each dish is returned to the right person after the reception. We will not be responsible for lost, broken, and/or eaten items. Contestants agree to be quoted and/or photographed and to use of their names, photographs without compensation. Email addresses will be added to our bake-off database. After judging, goods will be served at the post-concert reception. You do not have to be present to win. NO REFUNDS OR TRANSFERS.
If you can not attend the awards/reception, please bring your baked goods on disposable plates/platters. We will not be able to return plates to you after this night. We are not able to mail any awards/prizes/checks for those who can not attend the awards/reception, but we can arrange a date/time for you to pick them up in Belmont Shore. We will not be responsible for lost, broken, and/or eaten items. Youngsters may enter, but they must prepare, bake and present by himself/herself.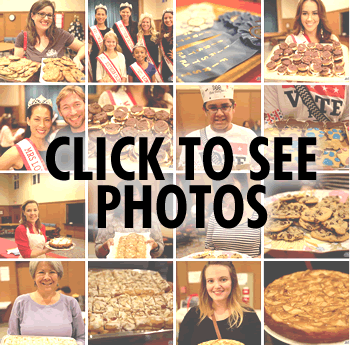 2014 Winners

1ST: COOKIES: Lori Kesslak, Coconut Brown Butter Cookies
1ST: PIES: Francis Marotta, Pear Hazelnut Crumble Pie 
1ST: CAKES: Kirsten Dominguez, Double Chocolate Torte
1ST: BROWNIES, BARS, SQUARES: Carol Gregerson, Oatmeal Bars
1ST: CUPCAKES, CAKE POPS: Casandra Sargent, Sweet Potato Cupcakes w/ Crushed Praline

2012 Category Winners

Cupcakes: Micaela Miranda
Cookies: Lorine Iwasaki-Kesslak
Brownies/Bars: Gerry Speirs
Cakes: Sherri Stankewitz
Pies: Amy Betty Brown

Photos: click
2011 winners:
4Best Cake
1st: Pumpkin Spice Latte Cake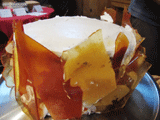 by Amy Betty Brown
Two Honorable Mentions:
- Pumpkin Pecan Bundt Cake w/ Spice Glaze
by Gina Diette
- Autumn Spice Cake
by Melissa McCabe

4Best Cookie
1st: Potato Chip Cookie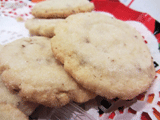 by Kelsey Hoppe
Two Honorable Mentions:
- Chunky Chocolate Gobs
by Richard McKinley
- Belgian Lace
by Connie Hoppe

4Best Bar/Brownie
1st: Dulce De Leche Cheesecake Bar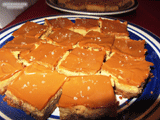 by Kirsten Dominguez
Two Honorable Mentions:
- Mississippi Mud Brownies
by Lisa Ramelow
- Baked Blondes
by Amanda Shepherd

4Best Cupcake
1st: Caramel Apple Cider Cupcake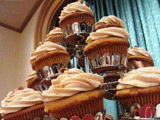 by Amy Betty Brown
One Honorable Mention
- Grandma's Devilish Cupcakes
by Ava & Joey Ziroli
2011 Bakers
Kirsten Dominguez
Michelle Williams
Stephanette Smith
Gerry Speirs
Amanda Shepherd
Melissa McCabe
Jeanie Enriquez
Kelsey Hoppe
Connie Hoppe
Leah Ballew
Barbara Strong
Ava and Joey Ziroli
Gina Diette
Lisa Ramelow
Lori Kesslak
Richard Mckinley
Joan Samson/Joanie's Bakery at Starling Diner
Patty Newkirk/Creative Cakery
Fran Watkins
Michelle Barnack
Becky Bershtel
Lynne Hagen
Susan Hyman
Maria Nicoletti RooneyGirl Bakeshop
Amy Betty Brown
Paula Psahnoudis
WHAT DOES CAT DO?: monthly 30-Minute Beach Cleanups; Bulldog Beauty Contest; Father/Daughter Dance; Long Beach Giving Project; Operation Easter Basket; $1,000 Nat'l Elem. School Spelling Bee; Nat'l Adult Spelling Bee; Mother's Day Concert; 4th of July Kids Bike Parade; Long Beach Losers weight-loss contest; Interfaith Blessing of the Animals; National Mutt Show; Haute Dog Howl'oween Parade; Miss Long Beach & Miss Southern California pageants; Long Beach Turkey Trot; Operation Santa Paws; more. CONTACT: Justin@JustinRudd.com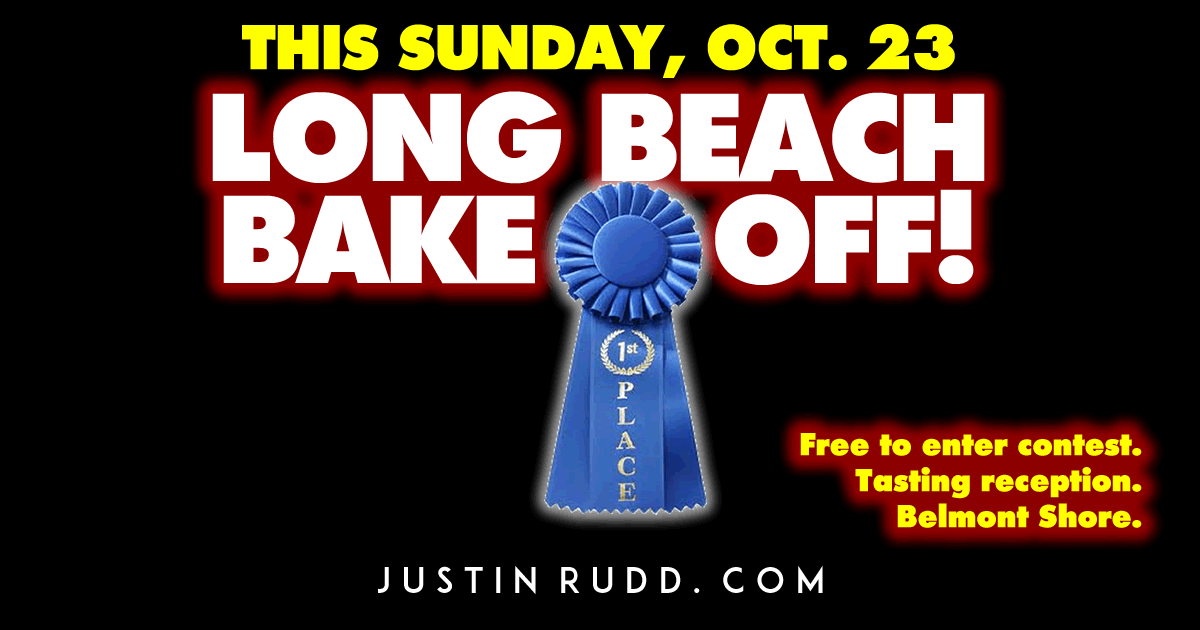 Sign up for our Email Newsletter




Who is this guy?!
- Justin Rudd!, Haute Dogs and Community Action Team (CAT), founder & organizer


"Justin Rudd makes the Energizer Bunny look about as speedy as a fire hydrant."
-- Tim Grobaty, columnist, Long Beach Press-Telegram


"The best friend of Long Beach dogs." --Tom Hennessy, Long Beach Press-Telegram; April 5, 2005


"Meet Mr. Tireless. Sometimes we think that if Justin Rudd never moved to Belmont Shore, the place would be overrun with feral cats and you'd be able to walk from Ocean Boulevard to the sea at Granada on a luxurious blanket of Styrofoam and cigarette butts. Instead, thanks to his work and the word "tireless' didn't exist until Rudd began walking and talking with dogs and clean-ups and education and miscellaneous pageantry, the Shore is a better place to live."
-- Tim Grobaty, columnist, Long Beach Press-Telegram; Mar. 2, 2005