I AM A FIRM

believer in the collective power of individuals joined in a spirit of goodwill and generous giving to bring about the success of an organization. That's why we need you to get involved.



g TAX-DEDUCTIBLE
Please Support CAT - a 501c3 Nonprofit

RIGHT NOW, while the need is in your mind, won't you please donate? We receive no government monies, and depend entirely on people like you.

WE HOPE YOU share our love for animals, kids and the environment, and our wish is that you'll consider a gift of $25, $50, $100 or another amount so that we can continue to bring you and our community fun events and meaningful projects.

CHECKS to C.A.T., Attn. Justin Rudd, 5209 E. The Toledo #1, Long Beach, CA 90803.


THE MAIN PURPOSE of the Community Action Team (CAT) is to promote social well-being among the general public. As a 501c3 nonprofit corporation governed by a board of directors, contributions to CAT are tax deductible and are used to help produce quality events within our community that benefit children, animals, and the environment.

C.A.T. IS AN UMBRELLA organization that includes Haute Dogs and:
4Halloween Kids' Costume Contest
4July 4 Kids' Bike Parade
4Interfaith Blessing of the Animals
4$1,000 National Kids Spelling Bee
4National Adult Spelling Bee
4Sidewalk Chalk Art Contest
4Haute Dogs on the Beach events
4Haute Dog Howl'oween Parade
4Operation Easter Basket
4Operation Santa Paws
45k/10k Long Beach Turkey Trot
4monthly 30-Minute Beach Cleanups.
To get on Justin Rudd's free "homelessness in Long Beach" e-newsletter, just CLICK.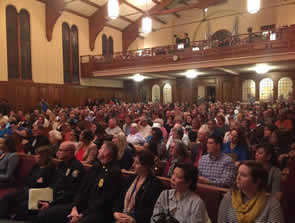 PLEASE SHARE: To watch the 22 speakers from tonight's Compassionate Town Hall: Homelessness in Long Beach event, visit JustinRudd.com/townhall

More than 600 attended the town hall on Jan. 30.

The Compassionate Town Hall: Homelessness in Long Beach event on Monday, January 30 was hosted by Justin Rudd and Bay Shore Church and addressed homelessness in Long Beach. It was at Bay Shore Church, 5200 E. The Toledo on Mon., Jan. 30, 7-9 p.m.   Doors and info booths (the agencies helping homeless in Long Beach) were open in the fellowship hall at 6 p.m.  and again after the town hall.  More than 600 people attended.

Attendees were asked to please consider bringing a pack of new socks to the town hall and 2,123 pairs came in for Justin Rudd's "Sock It to 'Em" sock drive for the homeless.  The goal is to collect 14,000 pairs of socks by Jan. 31.  MORE: www.JustinRudd.com/socks

Approx. 2,500-3,000 people are homeless in Long Beach.

The 22 speakers:
• Brian Addison, Writer and advocate 
• Steve Be Cotte, Long Beach Area Coalition for the Homeless, Pres.
• Tonya Burns, Children Today, Exec. Dir.
• Teresa Chandler, Long Beach Department of Health & Human Services (LBDHHS), Bureau Manager
• Dave Clark, Bay Shore Church, Senior Pastor
• Johnny Dodson, Long Beach Police Department, Homeless Outreach Officer
• Dixie Dohrmann, Christian Outreach in Action (COA), Exec. Dir.
• Giovanna Ferraro, downtown business owner 
• Dave Pilon, Mental Health America, CEO
• David Hendricks, Long Beach Police Department, Deputy Chief
• Arlene Mercer, Urban Community Outreach, Exec. Dir.
• Gail Mutke, St. Luke's Episcopal Church, shower program coordinator
• Dale Neal, Long Beach Rescue Mission; City of Long Beach Homeless Services Advisory Committee, chair
• Paige Pelonis, City Heart, founder
• Suzie Price, City of Long Beach, Councilmember
• Erin Simon, Long Beach Unified School District, Director of Student Support Services and LBUSD Homeless Liaison
• Marjorie Solorzano, Mental Health America, Program Manager of Long Beach Housing and Services
• Brenda Threatt, U.S. Vets - Long Beach, Exec. Dir.
• Tanya Times Witt, Los Angeles County Commission on Aging, commissioner
• Mike DuRee, Long Beach Fire Department, Chief; and their HEART homeless outreach team
• Rashida Crutchfieldedd, School of Social Work, California State University, Long Beach, Assistant Professor
• Donnell Tyler, Beacon For Him
MORE: Let's all work together to help those who are struggling with homelessness to get on the path to self-sufficiency. Let's find out how we as citizens can help, how and where we can serve, and how we can better give. We'll gain insight on what is being done, and your ideas will be heard. Learn from area professionals, government agencies and nonprofits. Come ask your questions in a caring and compassionate arena.


Host committee:
Justin Rudd, Dave Clark, Christine Robbins, Rebekah Vitale, Carolyn Hynes,Allison Kripp, Scot Breithaupt Jr., Shelly Stratton, Jacqueline Case, Vanessa Romain, Michelle King, Sarom Hong, Yeggi Kaela Watts,Paige Pelonis, Summer Wells, Maha Darwish, Jeanne Morales, Sheri Zampelli, Matt Kinley, Eboney DestinedforGreatness Pearson, Mark Magdaleno, Rebecca Magdaleno Rankins, Mary Sophiea,Roman Ansari, Adela Kunasz, Christina Colome.

For other upcoming event details, visit www.JustinRudd.com/cat.

What Did Justin Post on Facebook Today?!
Check it out here

Bulldog Beauty Contest to Attract More than 400 "Adora-bull" Beauties



MORE THAN 400 English & French Bulldogs and Pugs of all ages will travel to Long Beach, Calif., from as far as Las Vegas, Phoenix and San Francisco to vie for the coveted title. The annual contest will take place in Feb. The bulldogs will be evaluated (by real-life beauty queens) on personality, charm, face, figure, and first impression. DETAILS

g WINNER TO TAKE HOME $1,000 CASH
Spellers Sought for Bee