ARE YOU READY TO WIN?

g I want this Web site to be a valuable tool for teens and adults who are preparing for pageants. Whether you are getting ready to compete at the local, state or national level, we wish you the best of luck in your preparations.

Sincerely, Justin!

I AM A FIRM believer in the collective power of individuals joined in a spirit of goodwill and generous giving to bring about the success of an organization. That's why we need you to get involved.

THE MAIN PURPOSE of Justin Rudd's Community Action Team (CAT) is to promote social well-being among the general public. As a 501c3 nonprofit corporation governed by a board of directors, contributions to CAT are tax deductible and are used to help produce quality events within our community that benefit children, animals, and the environment.

C.A.T. IS AN UMBRELLA organization that includes Haute Dogs and:
4Halloween Kids' Costume Contest
4July 4 Kids' Bike Parade
4Dog-themed Poetry contest
4Interfaith Blessing of the Animals
4$1,000 SoCal Spelling Bee Championship
4So Cal Adult Spelling Bee
4Sidewalk Chalk Art & Poetry Contest
4Haute Dogs on the Beach events
4Haute Dog Easter Parade
4Haute Dog Howl'oween Parade
4Operation Easter Basket
4Operation Santa Paws
45k/10k Grunion Run
45k/10k Long Beach Turkey Trot
4monthly 30-Minute Beach Cleanups.

g

Justin's Free e-Newsletters



4 DOG e-News


Weekly; Long Beach/LA/OC area dog news & events;

9,000

+ subscribers;

subscribe


4

JUST-IN TIMES e-News


Weekly; Long Beach/LA/OC area gay & lesbian news & events; 2,500+ subscribers

; subscribe


4

BEACH CLEANUP e-News


monthly reminders for the Long Beach 30-Minute Beach Cleanup at Dog Zone; 1,500+ subscribers;

subscribe


4

BEACH FITNESS e-News


weekly e-news about Justin's Sand Challenge classes in Long Beach; 560+ subscribers

; subscribe


4

KIDS e-News


Long Beach-area events for kids; 570+ e-addresses; sent approx. once a month. subscribe


4

RUNNERS' e-news


3,115+ area 5K/10K runners/events list; sent a few times a year. subscribe


4

VOLUNTEER e-News


all kinds of Long Beach events that we need help with. subscribe


4

WEIGHT LOSS e-News


Long Beach Losers events, contests, ideas that can help you lose weight. 300+ subscribers. subscribe

Miss Calif. 2006, Jacque Fontaine, a pageant coaching client of Justin Rudd, who was top-10 at Miss America.

120+ Mrs. Pageant Practice Questions

CONTESTANTS WILL LEARN:
What to do and exactly when to get ready for a pageant.
What a bio sheet should (and should not) say about a contestant.
When to (and when not to) shake a judge's hand.
The questions you're most likely to hear from the judges.
What not to say to a judge.
What judges want to know about you.
The #1 most-asked pageant interview questions and great answers for them.
The topics that make judges like you.
How long your interview answers should be.
What to do right before entering the judges' interview room.
How to handle a judges panel and who to look at.
The million dollar answer to: "What's the biggest problem facing us today?"
What to say when you don't know the answer to a judge's question.
Key tips every winner knows before her pageant day.
How to present dynamic opening and closing statements.
Common mistakes and pitfalls on bio/info sheets.
Where to go for help with public speaking.
Recovery techniques when you think you've screwed up the interview.
Ways to calm your nerves before the interview.
Techniques for at-your-home pageant practice.
The importance and necessity of a pageant coach.
What to say in conclusion before leaving the judges.
Controversial topics that a contestant should avoid.
What judges are looking for and what they don't care about.
Current events that you should have opinions about.
The importance of first impressions.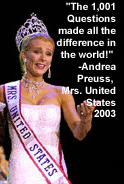 TO GET STARTED, Justin will need your payment in advance. You can call him to set up an appt. at 562/439-3316 and make your credit card payment by phone. Please leave a callback number and e-mail address if he is not available. He will also need some dates and times when you will be available to be phone coached. During the day on weekdays is usually best for Justin's coaching.
If you have further questions, please contact Justin by e-mail at Justin@JustinRudd.com.

g 1,001 QUESTIONS REVIEW BY PAGEANT NEWS BUREAU
Justin Rudd's 1,001 Pageant Interview Practice Questions Creates Winners!
Reviewed by Suzanne Burger, Pageant News Bureau

I'VE NEVER MET JUSTIN RUDD, but I think I would find him good company. I like a person who gets to the point, and that is what he does in this very useful manual. It contains no fluff, no pep talks, no anecdotes about Rudd or the beauty queens he has trained. There is just some concise, straightforward advice, followed by an exhaustive list of questions.

THE POINT IS, of course, that Rudd doesn't have all the answers. The answers are ultimately up to you. But he has enough questions to let you drill for hours, to let you test your mind and your nerves. There are questions on all sorts of subjects, questions of fact, questions of opinion, questions that have no single right answer.

ALL THIS assumes a certain maturity. This booklet really isn't for very young girls, or for women who are reluctant to be in competition. They could be scared off by the sheer quantity of questions. But for girls and women who really want to win a crown, mastering this material will be an education and a confidence-builder.

NO PUBLICATION ALONE can replace professional pageant coaching, as Rudd himself makes clear. But this guide is highly recommended for those who don't have access to a good coach, and it's a bargain compared to a bad coach. I suspect that use of this work will help many girls evaluate how good their own coaches are. I also suspect that plenty of coaches will be reading it.
Justin Rudd's 1,001 Pageant Questions (loose-leaf form, $24.95) can be ordered by mail, phone or online. Send check to Justin Rudd, 5209 E. The Toledo #1, Long Beach, CA, 90803. Or, call 562/439-3316 today.
Suzanne Burger is a beauty queen, model, law officer and security consultant. - Pageant News Bureau
Only $24.95!

Loose-leaf form. Includes tax, shipping and handling in the U.S.!

We can also FedEx over night, if you provide your account number/phone number when ordering. Add $8 for shipping/handling outside the U.S.

g CAPTURE THE CROWN
A Winning Pageant Interview
By Justin Rudd


IT IS MY INTENTION to expose budding contestants and candidates to what is an often-overlooked portion of nearly all pageants/programs-- the interview phase of competition. Sure, every contestant can do an interview, but how many can do it well? There are three ideas that should be pointed out here that can help make the difference between taking the title or walking away empty handed. They are--being prepared for the interview; keeping the interview focused; and using words and ideas that are descriptive and memorable.

WHAT MANY hopefuls do not really consider or devote enough time to is preparing themselves for the interview phase of competition, which can sometimes amount to 50 percent or more of one's overall score. It is amazing how many first-time contestants decide to wing this process only to find out too late how truly difficult it is to effectively communicate their point. Like any good Boy Scout can tell you -- the key to success is being prepared.

g LIMITED TIME OFFER
When you order the 1,001 Pageant Questions you'll also receive a free loose-leaf copy of Justin Rudd's "Key Tips to a Successful Pageant Interview."

ASPIRING TITLISTS need preparatory tools that will help them feel comfortable and increase their familiarity with answering the kinds of philosophical and hypothetical questions that are an inherent part of pageant interviews. Sometimes knowing the important questions is as critical as having the right answers, and being prepared for the interview stage is crucial to winning a title.

By studying questions such as those furnished by Justin Rudd's 1,001 Pageant Questions or the FREE "Five-A-Week Club," one can gain a sense of how to formulate answers and articulate them in a concise and meaningful manner. Practice questions are such a valuable tool. To think that it's not uncommon to spend $1,000 on an evening gown and getting practice questions is just a few dollars -- one would be foolhardy not to properly prepare.

BEING PREPARED means knowing in advance what you will discuss in your interview. Well, you must focus on yourself -- make sure your application and your interview focus on you and your opinions, not those of your family, friends, pageant director, etc. Veering off on some tangent about a distant relative or other such topic is not what the interviewer needs to hear.

He/she wants to hear about YOU. So often, a pageant application/bio sheet will ask the question, "Do you have any famous relatives?" The contestant will go off on a three minute explanation about that person, and "oops, time is up!" Don't waste your short interview time talking about anyone or anything else other than yourself. If you are asked about someone else, quickly explain how that person is important to you and then always bring the interview "back-around" to something about you and/or your opinions/beliefs.
g KEY TIPS TO A SUCCESSFUL PAGEANT INTERVIEW
Our Free Offer
AS A COACH, judge and consultant of numerous local, regional, statewide and national pageants, Justin Rudd has had the pleasure of interviewing hundreds of budding pageant titleholders. While no two successful contestants are identical, they do, however, share some basic qualities that have proven effective and oftentimes instrumental in capturing their respective titles.

You have heard time and time again about some of the basic skills that are integral to a successful interview (e.g., maintaining eye contact, posture, composure, poise, appearance). Justin Rudd's Key Tips to a Successful Pageant Interview include some other important points, suggestions and tips that you may not have considered that could be the key to your capturing the crown.

IT'S NO SECRET that one of Justin Rudd's Key Tips to a Successful Pageant Interview is "Practice, Practice, Practice." That's why budding and seasoned pageant titleholders arrange daily to have a friend or family member review practice questions in order to be prepared. By practicing, you too can develop your ideas more clearly and get used to conveying them. Remember, pageants are usually won or lost during the interview process.

So, if you want to be a Pageant Star, order your pageant interview practice questions today, brush up on your skills and PRACTICE, PRACTICE, PRACTICE!
g ORDER 1,001 PAGEANT QUESTIONS AND CAPTURE THE CROWN
4For a limited time: When you purchase 1,001 Pageant Questions, we'll include a FREE copy of Justin Rudd's Key Tips to a Successful Pageant Interview. All in loose-leaf form. FAST DELIVERY: we get your order to the post office usually within 24 hours, so you get your 1,001 Questions quick! We can also FedEx, if you provide your FedEx account number & phone number when ordering.

only $24.95 FREE SHIPPING & HANDLING IN U.S.

3 WAYS TO ORDER: ONLINE, PHONE 562/439-3316, OR MAIL.
Or, ORDER BY MAIL
make your $24.95 check payable and mail to:

Justin Rudd
5209 E. The Toledo #1
Long Beach, CA 90803

or, call 562/439-3316.