ARE YOU READY TO WIN?

g I want this Web site to be a valuable tool for teens and adults who are preparing for pageants. Whether you are getting ready to compete at the local, state or national level, we wish you the best of luck in your preparations.

Sincerely, Justin!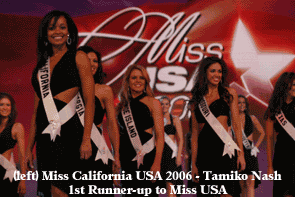 g SUCCESS STORIES
WHAT MRS. AMERICA 2006, ANDREA PREUSS, AND OTHERS ARE SAYING ABOUT JUSTIN'S PAGEANT QUESTIONS


"Practice early and often." This is the best piece of advice I can give after working with Justin. We began our interview preparation sessions well before my pageant competition. This not only gave Justin time to get to know me, but time for us to focus on what was unique about me and how I could best promote myself in the interview. Even with having 25 years of pageant experience from being a competitor, pageant judge, director, and coach, the benefits I received from working with Justin were invaluable. One of the aspects I enjoyed most about the phone coaching sessions with Justin, was his attention to detail. Whether it involves paperwork review or answers to specific questions, Justin does an outstanding job of helping you be most prepared to WIN!
-- Dr. Denise Attaway Yates, Mrs. Kentucky America 2007 (top-10 at Mrs. America)
Justin- You are an amazing man and I could not have done it without your help! When Mrs. World gets closer I would love to work with you again! Also, thank you so much for taking the time to send such a kind voicemail! -Andrea Preuss, Mrs. America 2006 & Top-10 at Mrs. World 2006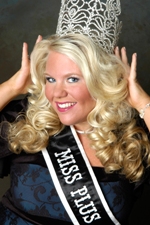 Justin allows you to realize that you have all that you need to win over the judges, yourself! I learned that the interview process should not be intimidating but a way for judges to really know you. In the end, Justin helped me further explore all that I had to give as a titleholder. I guess he was of great benefit because I am now the new Miss Plus America Elite 2007! -Jenna Vaught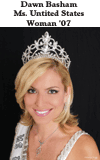 Justin Rudd's book of 1,001 Questions really helped me to get clear about what I was bringing to the crown, and my vision for what I would do with it. ---Dawn Basham, Ms. United States Woman 2007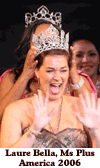 Justin was a great help in the short amount of time I had to work with him. His coaching gave me great ideas of how to gather my thoughts in preparation for the Interview during the competition. I ended up winning the "Overall Interview Award" which was a huge accomplishment and 50% of our overall score for the competition. --Laura Bella, Ms Plus America 2006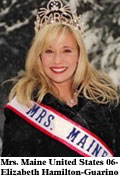 With our shared love of chocolate chip cookies and dough, I often wish Justin was also my pageant fitness coach!! However, Justin Rudd is simply a wonderful, kind and generous person who really has an amazing ability to draw out your best and well, what isn't the best and give you an eloquent way of speaking about yourself, others and the happenings of the world around you. He also is quite motivational and inspirational in everything HE does and you can tell he cares about other and their successes. I am really honored and proud to have Justin helping me get reading for the Mrs. United States Pageant and hope that other contestants contact him for help! ---Elizabeth Hamilton-Guarino, Mrs. Maine United States 2006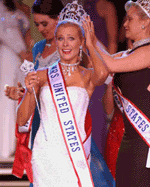 Hi Justin! My name is Andrea Preuss and I became Mrs. United States in July of this year. I purchased your book of questions a year before I competed and they made all of the difference in the world! Not only did they help me become Mrs. Ohio, but also go on to win Mrs. United States. I think the benefit of your help goes far beyond just winning a national title. Now that I have won and am traveling across the country speaking, it is great preparation for ANY question that someone could ask you. Also, as a business woman it has helped me in so many job interviews as well! So, I am sure that you hear thank you all of the time, but you are helping women become the best they can be when you may not even know it. So thank you! -Andrea, Mrs. United States 2003


Nice to be important, but more important to be nice! ---Casey Messer, Miss New Mexico 2007 (Justin Rudd's client; Casey says her mom would say that to her and her brother)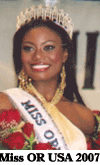 Justin, I just wanted to thank you for the five a week program it kept me on my toes during the interview and onstage question. Now Im happy to say that after being first runner up three times I finally won the title of Miss Oregon USA 2007. ---Sharitha Lynnette McKenzie, Miss Oregon USA 2007
Justin,I just thought you would like to know that I used your questions to prepare for the Mrs. Universal Achiever 2002 as well as Mrs. Galaxy 2003 & 2004 pageants. I bought the package approx. 5 years ago. I won Mrs. Universal Achiever 2002 & the interview award. I was 2nd runner up to Mrs. Galaxy 2003 and won Mrs. Galaxy 2004 (last June). Your questions really helped me get to know myself better, which enabled me to answer any question asked of me. I won the Mrs. Galaxy interview award and had the highest onstage question score. Smiles, -- Dr. Diana Santoro, Mrs. Galaxy 2004
I LOVE IT. You'd think that as a former news anchor and telesales spokesperson, I'd be able to think on my feet without a little coaching "help" - but the 1,001 questions are suburb! I think people of all genre's should have to use these questions or a combination of so, to help them become more concise speakers. My pageant is in a couple of weeks, and having your book gives me that extra confidence that I needed :) It's going to be on my hotel night table! -- Michele Paiva

Hi Justin, I thought you would be interested to know that I went through all of your 1001 pageant questions and last Saturday, April 10th, I won the title of Miss Houston USA. In addition, I am the first African-American to have won the title. I worked really hard in preparing for the pageant and owe my success to many people, and your questions helped me prepare. Next stop Miss Texas USA on June 27! --Thanks! Sally Diallo, Miss Houston USA 2004
"Hey Justin,I just wanted to let you know that I won overall interview at Miss New Mexico this year. One of the judges said that in 15 years of judgng, I was the best interview he'd ever seen at any level in Miss America. Your five a week questions really helped me improve my interview a great deal from last year. . . My final placement was top ten. Thanks!" -Sarah Hunt, Miss Las Cruces 2003

Justin: Just wanted to say a HUGE thank you for providing me questions weekly through your Five-A-Week Club. You certainly helped in my preparations for Miss USA 2000. Thanks again." Tiffany Meyer, Miss Kansas USA 2000 (Top 5, Miss USA)

Hi, I read the story about the 12 yr. old's pageant interview. I was in my first pageant at 13. I know how nerve racking an interview can be, I try to think back now as to what I said to totally blow my interview and I was so nervous at the interview I don't even remember! I can give some advice to this girl, I have been preparing over the past few months for another pageant in the fall. For my interview preparation I have been looking over my official entry form and I create questions for myself based on my answers on the form. I practice in front of the mirror with these questions, maintaining eye contact with my reflection as I would with the judges. I also think of spontaneous questions like, "If I could solve one problem in the World what would it be and why?" because I never know what the judges might ask. The most important thing also is to imagine the judge as a friend and not exactly what they are. It might relax you a little bit. Remember Practice, Practice, Practice!!! -Megan

Thanks for a "quality" product and the photo! I feel that I got my money's worth. There are those in the business who offer a product, and it is not professionally done. Thank you. --J.J., Maryland

Dear Mr. Rudd: I was writing to let you know how helpful your questions are in preparing for a pageant. Well, while in my pageant's recent top-five, my question was: "If I won my title and was offered a job for $100,000 a year, which would I choose and why?" I was able, of course, to answer immediately because the answer came from my heart. Your questions, without a doubt, not only prepared me for on-stage but during interview, too. I received "five" out of "five" during my interview with the judges, and I am now Mrs. New Jersey America 1999. And, I'm on my way to Hawaii to compete for Mrs. America. So all I can say is thank you and keep up the good work. I will be sure to keep referring you to all my friends in the pageant world. You really make a difference. Sincerely, Elizabeth Harris, Mrs. New Jersey America 1999

Oh yeah--I heard about the Five-A-Week Club--I think--from the Miss America Community Hall. I've seen advertisements for the Club on two other websites that I frequent, but I think that I signed-up when I saw it on the Miss America site. This service is great by the way--I definitely credit your questions and the prep I did with them with my Interview award at the only preliminary pageant I competed in this year for the Miss America Program. Thanks. B.H. in New York

My husband and I are new to the Five-A-Week Club. I interviewed with a contestant for our local and used his last questions for May and she loved them, meaning they made her think, and she came up with some good answers. It has been very helpful in preparing for our pageant which is on June 12th. We have just 8 contestants, but they all are looking forward to a good experience. R & D

I have just received Justin's 1,001 Questions. It is a fantastic package of interview questions. I am very pleased with how professional and well put together the package is. This is definitely a MUST for anyone who is serious about competing or looking for a job. I can't thank you enough for sending them so fast. It has been a pleasure to buy from you over the internet. THANK YOU JUSTIN! You're the BEST! K.E. in Georgia
g SEND US YOUR SUCCESS STORIES

Send an e-mail to Justin! click here
g ORDER 1,001 PAGEANT QUESTIONS AND CAPTURE THE CROWN
4For a limited time: When you purchase 1,001 Pageant Questions, we'll include a FREE copy of Justin Rudd's Key Tips to a Successful Pageant Interview. All in loose-leaf form. FAST DELIVERY: we get your order to the post office usually within 24 hours, so you get your 1,001 Questions quick! We can also FedEx, if you provide your FedEx account number & phone number when ordering.

only $24.95 FREE SHIPPING & HANDLING IN U.S.

3 WAYS TO ORDER: ONLINE, PHONE 562/439-3316, OR MAIL.
Or, ORDER BY MAIL
make your $24.95 check payable and mail to:

Justin Rudd
5209 E. The Toledo #1
Long Beach, CA 90803

or, call 562/439-3316.