ARE YOU READY TO WIN?

g I want this Web site to be a valuable tool for teens and adults who are preparing for pageants. Whether you are getting ready to compete at the local, state or national level, we wish you the best of luck in your preparations.

Sincerely, Justin!

WANT TO BE A PAGEANT STAR?

Pageant expert Justin Rudd can make it happen. Growing up in south Alabama, Rudd is now a resident of Long Beach, Calif., and has been active in the pageant world for more than 20 years as a judge, director and coach.

His forte is phone coaching -- helping teens and adults with interview skills, on-stage questions and bio sheets. $60/hr. weekday; or $35/half hour.

He has two volumes of pageant practice questions ($24.95 ea.) -- each having 1,001 unique questions; and a special collection of 150+ Mrs. questions ($15).

Rudd also emails five free interview questions each week to more than 4,000 subscribers of his Five-A-Week Club.

Contact Justin@JustinRudd.com to set up an appointment now.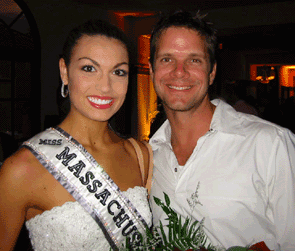 Justin with Miss Massachusetts Teen USA 2003
g JUSTIN RUDD'S FREE TRAINING PROGRAM
FREE FIVE-A-WEEK CLUB

MEMBERS OF THE FIVE-A-WEEK CLUB receive five FREE pageant interview practice questions in their weekly e-mail.

Since the Five-A-Week Club began in 1999, hundreds of contestants, parents, coaches, directors and judges are better prepared for interviews than ever before.

The questions are similar to those sprung on contestants during their personal interview or on-stage questioning and have topics that range from politics to vanity.

FREE PAGEANT PRACTICE QUESTIONS:
Are you working diligently on your interview phase of compeition? Here are some questions, similar to the ones e-mailed to Five-A-Week Club members each week, that may help you be prepared for your pageant interview:
1. Does pageant preparation help you to develop as a person? Why or why not?
2. Tell me about two events that have influenced your life.
3. How important is the weight of a person in making a first impression?
So, how did you do in answering the questions above?
The questions above were taken from Justin Rudd's "Pageant Questions."
g MORE FREE PREP TIPS
PAGEANTS@YAHOOGROUPS.COM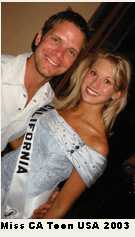 WE RECOMMEND that contestants, directors, judges, parents and coaches subscribe to the free pageants@Yahoo Groups.com list. This mailing list allows you to send e-mail about topics relating to pageant preparations. The pageants@Yahoo Groups.com list is intended for teen and adult discussion only.
The way it works: Instead of individually sending e-mail to everyone on the list, subscribers can send their e-mail to one address pageants@YahooGroups.com, which will then automatically send the message to everyone else.

This service is free and you are welcome to cancel at any time. To subscribe to the list, send a blank e-mail to Pageants@YahooGroups.com. You will then receive a welcome letter in your e-mail box that has more information.
g PAGEANT COACHING IN-HOUSE OR PHONE
ALL AREAS OF COMPETITION
JUSTIN RUDD offers private pageant interview coaching in his home and phone coaching for teens and adults. A one-hour session is $60, while a 1/2 hour session is only $35. Additionally, your session can be recorded on your video tape for $10. Check or cash payment is due at the end of each session. Contact Justin.

PHONE COACHING
The fee for a full hour is $60---while the 1/2 hour session is only $35. Each session will include short mock interviews with feedback, plus discussion about any questions you might have.
To get started, Justin will need your payment in advance. You can call him at 562/439-3316 to give your credit card info or you can send a check several days before your phone interview. When your check is received, Justin will contact you by e-mail with his phone number. He will also need some dates and times when you will be available. During the day on weekdays is usually best.
If you have further questions, please don't hesitate to contact Justin by e-mail at Justin@JustinRudd.com.
g Q&A's
FREQUENTLY ASKED QUESTIONS
Q. How long does it take for me to receive my 1,001 Questions?
A. FAST DELIVERY: we get your order to the post office usually within 24 hours, so you get your questions quick!
Q. Are the 1,001 Pageant Questions appropriate for children?
A. Not really...they are geared for Teen, Miss and Mrs. contestants.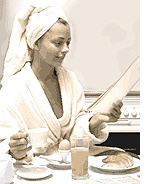 Q. Do you provide answers to the 1,001 Questions?
A. We want your answers to be creative and extemporaneous. We provide just the questions.
Q. Are these questions all original?
A. Justin Rudd's Pageant Questions are a collection that includes some questions that have been used at local, state and national pageants.
Q. Do you accept credit card orders by phone?
A. Yes, CLICK HERE.
Q. Do I pay extra for shipping and handling (S& H)?
A. No. It's included.
Q. Do I have to have an e-mail address to receive the Five-A-Week Club questions?
A. Yes. Participants in this program receive five interview practice questions in their weekly e-mail.
Q. How do I get a copy of your KEY TIPS TO A SUCCESSFUL PAGEANT INTERVIEW?
A. For a limited time we will send you those for free, when you order the Pageant Questions. The KEY TIPS are in loose-leaf form.
Q. How did you come up with 1,001 Questions?
A. It took months and months of research and compiling to do it.
Q. Will I win if I order these Questions today?
A. You'll be more prepared than ever to capture your crown. Order today!
Q.Are the questions and tips in hardback book form?
A. The questions are delivered to you on easy-to-use loose-leaf pages. There are about 20 pages of questions -- plenty to keep you busy & thinking until your next pageant. Good luck!
g ORDER 1,001 PAGEANT QUESTIONS AND CAPTURE TsHE CROWN
4For a limited time: When you purchase 1,001 Pageant Questions, we'll include a FREE copy of Justin Rudd's Key Tips to a Successful Pageant Interview. All in loose-leaf form. FAST DELIVERY: we get your order to the post office usually within 24 hours, so you get your 1,001 Questions quick! We can also FedEx, if you provide your FedEx account number & phone number when ordering.

only $24.95 FREE SHIPPING & HANDLING IN U.S.

3 WAYS TO ORDER: ONLINE, PHONE 562/439-3316, OR MAIL.
Or, ORDER BY MAIL
make your $24.95 check payable and mail to:

Justin Rudd
5209 E. The Toledo #1
Long Beach, CA 90803

or, call 562/439-3316.