MARK TWAIN once wrote: "Twenty years from now you will be more disappointed by the things you didn't do than by the ones you did. So, throw off the bowlines. Sail away from the safe harbor. Catch the trade winds in your sails. Explore. Dream. Discover."

MY MOTTO IS "EXPLORE. DREAM. DISCOVER."

I WANT TO Explore, Dream and Discover as much as possible in my life here on earth, and I want my Web sites to empower, equip and incite others to do the same.

I WANT TO help folks to find something new and exciting to do and experience. That's why I formed my charitable organization and named it the "Community Action Team"— a name that I feel encompasses all the varied activities and events that I have (and will continue to) organized for the good of our community.

WHAT CAN I DO to help you explore your potential, make a dream come true or discover new frontiers? I hope to hear from you.

Yours truly,
Justin Rudd!


THE MAIN PURPOSE of Justin's Community Action Team (CAT) is to promote social well-being among the general public. As a 501c3 nonprofit corporation governed by a board of directors, contributions to CAT are tax deductible and are used to help produce quality events within our community that benefit children, animals, and the environment.

C.A.T. IS AN UMBRELLA organization that includes
4Halloween Kids' Costume Contest
4July 4 Kids' Bike Parade
4Haute Dog Poetry Contest
4Interfaith Blessing of the Animals
4$1,000 National Elementary School Spelling Bee
4Nat'l Adult Spelling Bee
4Belmont Shore Sidewalk Chalk Art Contest
4Haute Dogs on the Beach events
4Haute Dog Howl'oween Parade
4Operation Easter Basket
4Operation Santa Paws
45k/10k Long Beach Turkey Trot
4monthly 30-Minute Beach Cleanups
4Beds, Bikes, Bears & Blankets giveaway to those in need
4Clothing giveaways to the underserved
4Bulldog Beauty Contest
4Mom Prom
4All-day Read
4Say, "Cheese" Long Beach 24-hr. digital photo contest
42nd Street Walkers
4Long Beach Giving Project
4Camp Justin!


I AM A FIRM believer in the collective power of individuals joined in a spirit of goodwill and generous giving to bring about the success of a community.

-Justin Rudd!


Previous Polar Splash PHOTOS


LONG BEACH POLAR SPLASH is Sat., Jan. 16, 2016, 11 a.m. at 1 Granada Ave. Will you join us?



The "Long Beach Polar Splash" is Sat., Jan. 16, 11 a.m., following the 10 a.m. "30-Minute Beach Cleanup"


FREE EVENT: Justin Rudd's nonprofit Community Action Team (C.A.T.) will donate $5/per person to your charity/organization/school (up to $2,000) if each person in your group meets the following conditions:
NOTE: in order to receive any money, groups must have at least 20 people who do this exactly:
THANK YOU
This event is hosted by Justin Rudd and his nonprofit 501c3 Community Action Team (CAT). CAT is supported, in whole, by funds raised at the Long Beach Turkey Trot 5K/10K and Haute Dog Parades. WEB SITE
• the team's leader must contact Justin@JustinRudd.com in advance to get the event details/rules

• at the time of registration, registrant must indicate the correct charity/organization/school name in the space provided
• must be parked and signed-in by 10 a.m., sharp (free parking), 1 Granada Ave., 90803
• must participate in the 30-Minute Beach Cleanup (free bags & gloves provided)
• must be in the team's photo at 10:45 a.m. taken by Justin Rudd
• must get completely wet (including hair/head) during the Polar Splash
• must be in the team's photo at 11:15 after everyone is wet
• no wet suits
• the event is free
• each must be registered at https://polarsplash2016.eventbrite.com by 6 p.m. on Fri., Jan. 15; can not add to the team after this time
Wear what you want! It can be in a nice costume, your jeans and t-shirt, your mittens and 2-piece bikini; your Speedo and parka; your board shorts and flip flops. It's your choice. This is not a swimming event.

Footwear is fine to wear. No wet suits. Costumed encouraged. Bring your own towel. The water temp this time of year is approx. 55-59 degrees. Polar plunges and splashes happen this time of year all over the world.

These are causes that are championed by our hostesses for the day: Little Miss, Teen, Miss and Mrs. Long Beach and Southern California Cities. These ladies will also be donning their swimwear and gettin' cold for their causes. Thanks ladies!

All ages are welcome. Those under 18 must have a parent/guardian present to participate or parental permission during registration. Dogs are welcome at Rosie's Dog Beach, but we do not allow anyone to submerge a dog.

NOTE: RAIN OR SHINE EVENT.

What Happens at the Polar Splash?





DOUBLE DIP!

With 64 degrees under cloudy skies and 57-degree water, about 150 braved the first Long Beach Polar Splash last Jan. We'll do it again on third Sat. of Jan., following the 30-Minute Beach Cleanup. The cleanup and Polar Splash will be near 1 Granada Ave., next to Rosie's Dog Beach. Justin Rudd's nonprofit Community Action Team (CAT) will be donating $5 to various area charities for every person that participates in the 10 a.m. cleanup and then plunges into the Pacific at 11 a.m., up to $2,000. Participants will be able to choose one of several various causes as they arrive to the event. More details below.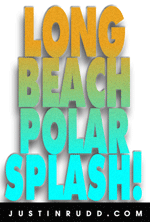 Basically, on the word "go" from the organizers, the group of people will scamper into the water to submerse themselves, and then make a quick retreat.

The whole process happens within minutes or seconds. Bring your cameras to document the fun, and post your photos on Facebook.
Frequently Asked Questions

Q: What is a polar plunge or polar splash?
A: a traditional, annual event where people enter a body of water in cold weather (often on New Year's Day) to raise money or awareness for various causes
Q: How cold will the water be in Long Beach?
A: 55-59 degrees

Q: How do I sign up?
A: Just be arrived by 10:50 a.m. and get signed-in on-site.

Q: What happens if it's raining?
A: We still do it. The charities are depending on us to help them raise this money.


Have other questions or comments?
Contact us


Sign up for our Email Newsletter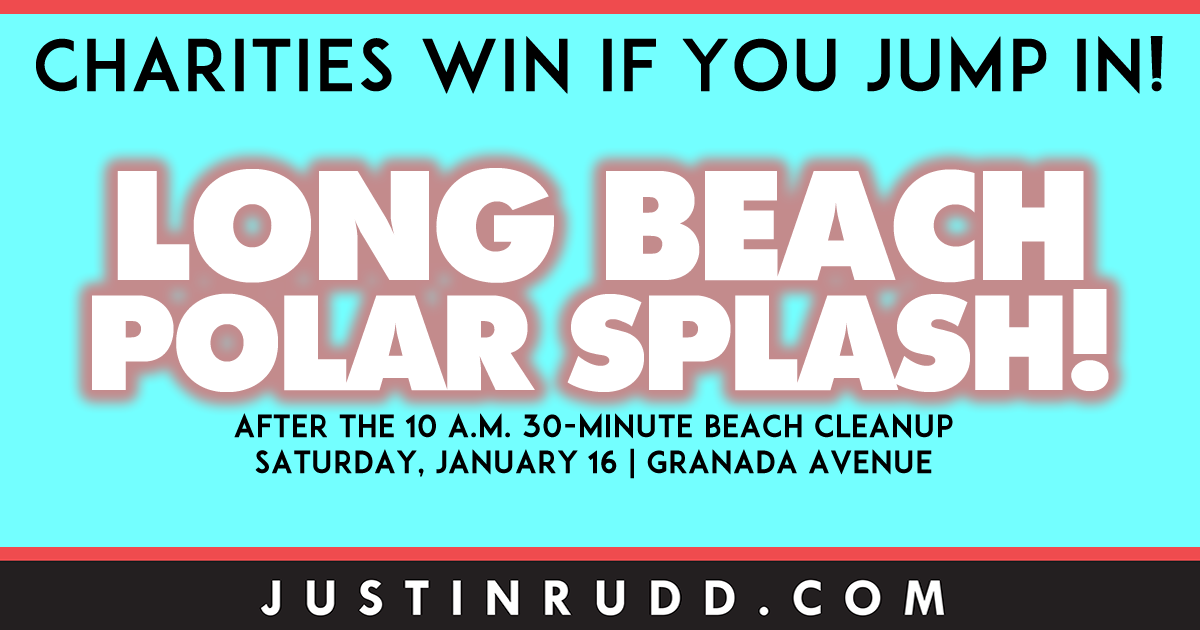 Who is this guy?!
-
Justin Rudd!
, Haute Dogs and Community Action Team (CAT), founder & organizer