MARK TWAIN once wrote: "Twenty years from now you will be more disappointed by the things you didn't do than by the ones you did. So, throw off the bowlines. Sail away from the safe harbor. Catch the trade winds in your sails. Explore. Dream. Discover."

MY MOTTO IS "EXPLORE. DREAM. DISCOVER."

I WANT TO Explore, Dream and Discover as much as possible in my life here on earth, and I want my Web sites to empower, equip and incite others to do the same.

I WANT TO help folks to find something new and exciting to do and experience. That's why I formed my charitable organization and named it the "Community Action Team"— a name that I feel encompasses all the varied activities and events that I have (and will continue to) organized for the good of our community.

WHAT CAN I DO to help you explore your potential, make a dream come true or discover new frontiers? I hope to hear from you.

Yours truly,
Justin Rudd!


THE MAIN PURPOSE of Justin's Community Action Team (CAT) is to promote social well-being among the general public. As a 501c3 nonprofit corporation governed by a board of directors, contributions to CAT are tax deductible and are used to help produce quality events within our community that benefit children, animals, and the environment.

C.A.T. IS AN UMBRELLA organization that includes
4Halloween Kids' Costume Contest
4July 4 Kids' Bike Parade
4Haute Dog Poetry Contest
4Interfaith Blessing of the Animals
4$1,000 National Elementary School Spelling Bee
4Nat'l Adult Spelling Bee
4Belmont Shore Sidewalk Chalk Art Contest
4Haute Dogs on the Beach events
4Haute Dog Howl'oween Parade
4Operation Easter Basket
4Operation Santa Paws
45k/10k Long Beach Turkey Trot
4monthly 30-Minute Beach Cleanups
4Beds, Bikes, Bears & Blankets giveaway to those in need
4Clothing giveaways to the underserved
4Bulldog Beauty Contest
4Mom Prom
4Say, "Cheese" Long Beach 24-hr. digital photo contest
42nd Street Walkers
4Long Beach Giving Project
440-Day Challenge
4Red High Heels Walk
4Camp Justin!

I AM A FIRM believer in the collective power of individuals joined in a spirit of goodwill and generous giving to bring about the success of a community.

-Justin Rudd!




"Dream With Me"
the official Camp Justin! song
by Andrew London

Oh my friend
it's a new day
we've got mountains we've got valleys
along the way
i'll be with you
we'll find what's in store
oh we'll never know
until we explore

'till we lace up our boots
and take all we've got
life moves too fast to wonder
if we can or not...

So, dream with me
dream with me
there's a world out there for us to see
and whether we fly or crawl
we can discover it all
so open your eyes
and dream with me

oh my friend
it's a big big town
a million journeys, million stories
walking around
there's a place for us
where we want to go
but the first step is the hardest
my friend, i know...

i've grown tired, people telling me 'no'
don't need a path, don't need a road
let's leave it all behind and make our own
only you and I know the places we can go...






Camp Justin! 2022 begins Monday, June 20.



2019 Camp Justin! photos:
Day 1: JustinRudd.com/2019day1
Day 2: JustinRudd.com/2019day2
Day 3: JustinRudd.com/2019day3
Day 4: JustinRudd.com/2019day4
Day 5: JustinRudd.com/2019day5
Day 6: JustinRudd.com/2019day6




MORE: JustinRudd.com/camp



2017 Camp Justin!

2017 Photos

• Day 1
• Day 2
• Day 3
• Day 4
• Day 5
• Day 6
• Day 7

2016 Photos

• Day 1 & 2
• Day 3
• Day 4
• Day 5
• Day 6
• Day 7


VIDEO | STUDENTS | SCHEDULE | SPEAKERS


"Camp Justin!" 2019 Helped Incoming High School Juniors and Seniors to "Explore, Dream & Discover"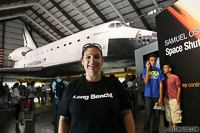 CAMP JUSTIN! 2098 hosted 12 deserving high schoolers from the Long Beach Unified School District and selected by Operation Jump Start staff to a weeklong day camp that afforded them opportunities to "explore, dream, and discover" Southern California. Those are the three words of the motto for Justin Rudd's Web site JustinRudd.com. This year, the 9 a.m. to 6 p.m. camp took place Sat., June 15 - Sat., June 22.

HISTORY
In previous years, Justin has had the opportunity to do service projects in Germany, Spain, Zambia, Kenya, Uganda, and in the U.S., but in 2011 he wanted to do a weeklong service project in his hometown of Long Beach and came up with this Camp Justin! idea. For the first three year's the camp was funded by a generous grant from an anonymous family's foundation to Rudd's nonprofit "Community Action Team," and the deserving students did not have to worry about getting around the Southland or paying for the opportunities during the week. For 2016, the Camp is depending on various donors to fund the activities, along with a generous donation from the annual Long Beach Turkey Trot.

FUNDING NEEDED
Could you help support some of the outings, travel expenses, and meals with a tax-deductible donation to my Community Action Team (CAT), please mail check to CAT, 3040 E. First Street, Long Beach, 90803 or use Paypal.com and input Justin@JustinRudd.com.



EACH DAY'S ACTIVITIES are a surprise to the participants. Rudd rents a 15-passenger van and picks up the students and a campus security guard or staff chaperone at 9 a.m. on each morning of the camp and, as in past years, takes them to places like the Hollywood Sign, the Aquarium of the Pacific, the Huntington Library & Gardens and 20th Century Fox studios.

2014 Photo Galleries

• DAY 1 http://bit.ly/ CampJustinDay1 | video
• DAY 2 http://bit.ly/ CampJustinDay2 | video
• DAY 3 http://bit.ly/ CampJustinDay3
• DAY 4 http://bit.ly/ CampJustinDay4
• DAY 5 http://bit.ly/CampJustin5

Camp Justin! 2013 photo galleries:

Day 0 – Saturday beach cleanup, Nat'l Anthem singing contest, Open Sesame
Day 1 – Mon. Fuego, USS Iowa, Chick-fil-A, Sport Chalet shoe shopping, CSULB recycle center tour, CSULB campus tour, shopping spree at Target
Day 2 a.m. & Day 3 p.m. - Tues./Wed. Corner Bakery, KPasta pizza making, CSULB Japanese Gardens,
Day 2 p.m. (Vegas!) - Tues. flight to Las Vegas, Bellagio, Cirque du Soleil's Mystere, NYNY's roller coaster
Day 3 – Wed. return from Vegas, Baja Sonora, Rose Garden, USC tour, space shuttle tour
Day 4 – Thursday Albertson's, horseback riding, 20th Century Fox tour, McDonald's
Day 5 – Friday Sweet Jill's, The Getty, Chipotle, Diddy Riese, UCLA, trampolining
Day 6 – Saturday Renaissance Hotel for breakfast, fire boat port tour, Palos Verdes cliff hike, visit a spay/neuter clinic, The Attic for lunch.


Camp Justin! 2012 photo galleries:
Day 0 – Saturday beach cleanup, Open Sesame

Day 1 – Mon. Fuego, Aquarium, Judge Lowenthal, shoe shopping, Hollywood, UCLA, Diddy Riese
Day 2 – Tues. flight to San Fran, Golden Gate Bridge, Alcatraz, Boudin's, Ghirardelli, cable car
Day 3 – Wed. Doughnut Deli, Hunt. Library, Baja Sonora, Target shopping, recycle center, CSULB
Day 4 – Thursday horseback riding, 20th Century Fox tour, USC
Day 5 – Friday Chick-Fil-A, fire station 16, Big Red Bus, La Strada, Frosted, Rossmoor Pastries factory tour, Wayfarer's Chapel, Palos Verdes cliffs
Day 6 – Saturday It's a Grind, K Pasta, LB Animal Care, beach cleanup, Rosie's Dog Beach, Lucille's

Camp Justin! 2012: video

LAS VEGAS IN 2013
The biggest surprise from the Camp in 2013, was a flight to Las Vegas and an overnight at the 5-star Bellagio Hotel. Campers also enjoyed a Cirque show and a late night ride on the roller coaster at New York, New York.

SAN FRANCISCO IN 2012
The highlight of the 2012 camp was a flight to San Francisco with a tour to the Golden Gate Bridge and Alcatraz and a ride on the cable car. In Long Beach they toured the animal shelter and the CSULB recycling center. Campers were engaged in talks by community leaders including Judge Danny Lowenthal, John and Michelle Molina, Mary Sophiea, Enrique and Michelle Perez, Peter Joseph and Lisa Ramelow. Topics included happiness, success, education, equality, justice, and animal care.

EACH GOT A professional photo shoot from famed photographer Samuel Lippke. They visited three college campuses including UCLA, USC, and CSULB. Students ate delicious breakfasts and lunches each day, as well as morning and late afternoon snacks. Dining highlights included lunch at Boudine's in San Francisco, K Pasta, La Strada, Open Sesame, Lucille's and the commissary at 20th Century Fox studios.


ON THE FIRST DAY, students received digital cameras, leather journals, and fine writing pens to document their week of camp. As the week progressed, students were taken to a department store to choose new outfits, socks, underwear, and toiletries.

Day 0: Saturday, June 16, 2012
PHOTOS | JUSTIN RUDD GOT TO MEET 7 of the 12 Camp Justin! students when they came to volunteer at today's 30-Minute Beach Cleanup. Open Sesame on 2nd St. hosted the students to a delicious lunch and an inspirational talk by Woodi Moratti. The 6-day camp runs this coming Mon.-Sat.

Day 1: Mon., June 18
PHOTOS | OUR PURPOSE for the camp was to "Explore. Dream. Discover." We had 14 deserving high schoolers at "Camp Justin!" for 6 days of destinations, introductions and adventures. TWELVE of the finest students in Long Beach are chosen each year to participate in Justin Rudd's annual 6-day summer day camp called "Camp Justin!" For Mon., June 18, the students started out with breakfast at Fuego at Hotel Maya and enjoyed a pep talk with general manager Kristi Allen. Justin presented each student with a digital pocket camera to record memories for the week. During the buffet breakfast campers also got to hear words of inspiration from John and Michelle Molina. Next stop was a behind-the-scenes tour by Perry Hampton at the Aquaruium of the Pacific. Then on to Judge Danial Lowenthal's courtroom in Downey for a talk and tour. After a stop for brand-new athletic shoes for a week of walking around, campers downed lunch from McDonald's on the 15-passenger van ride to the Hollywood Sign. Then to Hollywood & Highland, Mann's Chinese Theatre and the Walk of Fame. They chose Hollywood postcards and mailed them home. On the van ride to UCLA, they did a slight detour down Rodeo Drive. After a walk around the UCLA campus, they cooled down with ice cream sandwiches from Diddy Riese. Can't wait for tomorrow's surprises!

Day 2: Tues., June 19


PHOTOS | THANKS to an anonymous Long Beach family's foundation for funding Camp Justin! each summer!! Each outing is a surprise, and today's was one of the biggest. After bagels and a 7:10 a.m. flight out of Long Beach, the 12 high schoolers and two chaperones boarded JetBlue for a private Q&A with the pilot. The majority of the students were first-time fliers today and only one had ever traveled to San Fran. We enjoyed a bay tour and went under the 1.2-mile Golden Gate Bridge, and got up close and personal to see the 22-acre Alcatraz Island, and the sea lions at the wharf (ranging from 600-2,000 lbs. each). We chowed down on chowder-filled bread bowl's at historic Boudin's, followed by swallowing raw oysters on the half shell. Most had never tried raw oysters. We bought SF postcards and mailed them home and picked out SF souvenir t-shirts. After a sweet stop at Ghiradelli's for ice cream sundaes, we boarded the cable car back to Powell Street. After some window shopping, we boarded BART to get to SFO for our 6:55 p.m. flight back to Long Beach. Another awesome day with 12 AMAZING LBUSD students. Tomorrow is going bring many more adventures!

Day 3: Wed., June 20

PHOTOS | Today we helped make blueberry donuts at Doughnut Deli and got inspirational talks from Hien and Amber, the owners. We then headed north to San Marino's Huntington Libray where the students toured the gardens, art collections and science exhibits. We loaded the 15-passenger rental van back to Long Beach for a delicious lunch at Baja Sonora on Atlantic Ave., compliments of owners Mary, Sean and Mike. They also served up some great life stories and advice. We went on to Target where we met former Miss Long Beach Elisa Sabes who helped the students shop for essential clothing and toiletries. Then, off to CSULB for a tour of the recycling center with Lee, and Spider Energy Drinks compliments of Kenny. After a inspirational talk by Janey Roeder, we completed our day with a campus tour of CSULB. Only three more days of Camp Justin! 2012. These are some of the FINEST students in the LBUSD. So grateful to the Long Beach family whose foundation has anonymously funded this 6-day camp the past two years. Thankful to our week's chaperone, the lovely Mrs. Bietriz Nieves. May all who are a part of this adventure continue to be blessed richly.

Day 4: Thurs., June 21

PHOTOS | I PICKED UP the 12 students at their school and took them to nearby Albertson's. Gave them a budget and calorie limit to purchase what they wanted for breakfast. Some chose fried chicken. We then headed to Griffith Park in Burbank to ride horses. After lunch in the commissary at 20th Century Fox Studios in Century City, the students enjoyed insping messages from Aimee Hoffman and Jose Zavala. Then, a private tour of the lot by Ralph Millero and some great inspiration from Twister Murchison. They even got to meet Vanessa Morrison, the president of Fox Animation and Carlos Saldanha, the director of RIO. Then down the road, we met up with Christian for a tour of USC. It was another GREAT day with Camp Justin! 2012. Two more days to go for this annual 6-day summer camp for deserving high school seniors.

Day 5: Fri., June 22
PHOTOS | Today (Friday, June 22) was our fifth day of our 6-day Camp Justin! for 2012. We were treated to breakfast at Chick-fil-A by owner/operator John Howard. Got a great talk from Janique Brown, their Director of Operations. We then got a tour and inspirational talks and advice from Station 16 at the LB airport. We've got some cool fire fighters in Long Beach. We hope the red phone never rings again. We then boarded the Big Red Bus on 2nd St., and before departing on our Long Beach coastline tour with Millikan co-principal Monica Daly, Miss Long Beach 2012 Kristin Bopp, Mrs. Long Beach 2012 Rebekah Bennett, and Mrs. Southern California Cities 2012 Courtney O'Steen, we heard some great words of advice and encouragement from Peter Jospeh who owns/runs/drives Big Red Bus. Along the route, the students were photographed by professional photographer Samuel Lippke. After our complimentary bus ride, we were hosted to a delicious lunch and inspiring talks at La Strada by owner Lisa Ramelow, Millikan's co-principal Dr. Conrnejo and Mr. Lippke. We then headed across the street to Frosted for complimentary cupcakes hosted by owner Nancy Hanley. She also spoke to us about "success" and "happiness." Then, a sweet tour of Rossmoor Bakery led by owner Charlie Feder. We were impressed by the numbers of wedding cakes made each week. We also like that his delivery fleet is all powered by natural gas. We boarded the van and then went over to Palos Verdes to enjoy some scenic and peaceful moments at the Wayfarer Chapel before hiking along the cliffs overlooking the Pacific Ocean.
Tomorrow is the final day of Camp Justin! 2012.
Day 6: Saturday, June 23
PHOTOS | For the final day of the 6-day camp, we started at It's a Grind on Spring St. Store owner Michelle Cross gave us a generous discount on coffee drinks and pastries. Several of the students had lattes and mochas for the first time. Michelle gave us an inspirational talk, answered all our questions, then taught us how to work an espresso machine. On our way to the next stop of the day, we dropped by Target. Each chose their favorite 5x7 frame for the headshots that photographer Samuel Lippke took yesterday after the Big Red Bus ride. We got to K Pasta where owners Enrique and Michelle Perez let the campers make personal pizzas to eat. The couple then spoke to the students about overcoming obstacle and finding success and happiness. The next visit was to Long Beach Animal Care Services where the vet tech Allyne Moon gave us a tour of the cat and dog cottages, the labratory and one of the animal transport vehicles. We then dropped by Justin's apartment to be introduced to Riley the Bulldog before heading a few blocks away to Rosie's Dog Beach. The students put on latex gloves and helped do a mini beach cleanup.
For the final lunch of the week, campers invited their friends and family to a BBQ buffet at Lucille's. Each camper spoke about the week's activities and shared their highlights. Guests were presented with a slideshow of photos from the week and each took home a souvenir JustinRudd.com t-shirt. And, we sang "Happy Birthday" to Lily and Mario - each celebrated their birthday during the camp this week. A good time was had by all.



Last Year's Camp Justin!

Day 1 - 2011

PHOTOS | OUR PURPOSE for the camp was to "Explore. Dream. Discover." We had 14 deserving high schoolers at "Camp Justin!" for 6 days of SoCal destinations, introductions and adventures. Today we went to the LA Zoo, original Bob's Big Boy, Hollywood Sign, Walk of Fame, Mann's Chinese Theatre, Kodak Theatre, mailed postcards home from Hollywood, Sprinkles cupcakes, Rodeo Drive, and UCLA with LOTS of good fun and lessons along the way in the 15-passenger van.

Day 2 - 2011


PHOTOS | Day 2 of 6 for "Camp Justin!" w/ 14 high schoolers: Bagels with composer Andrew London who was creating an original song for the Saturday slideshow/BBQ, back-to-school outfit shopping at Target, station tour and AMAZING fire boat ride around the port with Station 20, lunch on Queen Mary with Mayor Foster, hiking along cliffs in Palos Verdes, picked up trash on beach, inspirational talk from LBPD Commander Josef Levy, LBCC campus tour.

Day 3 - 2011

PHOTOS | Day 3 of 6 for "Camp Justin!" w/ 14 LBUSD high schoolers: bfast @ McDonald's; toured the Huntington Library's library, art collections and botanical gardens in San Marino; lunch at Claim Jumper w/ Judge Danny Lowenthal; visited the Earl Burns Miller Japanese Garden at CSULB; toured the Recycling Center at CSULB; talks from provost and biz school dean of CSULB; toured the CSULB campus; athletic shoe shopping at Famous Footwear; talk w/ Miss Long Beach.

Day 4 - 2011

PHOTOS | Today (Thurs.) we took the students for donuts, then headed to Griffith Park to ride horses; then to the 20th Century FOX Studios for lunch and a talk with former Miss USA/KTLA reporter Lu Parker and a private screening of "RIO" and a studio tour with Ralph Millero; then to USC for a campus visit.

Day 5 - 2011

PHOTOS | Today we started with cinnamon rolls at Sweet Jill's on 2nd St., accompanied in the van by Riley the Bulldog; went out on a large boat to study marine life along the Pacific Coast of Long Beach with marine biologist Eliot Freutel of the Long Beach Marine Institute; had pizza on Main St. in Seal Beach with Long Beach's First Lady Nancy Foster and walked out on the Seal Beach Pier for a talk from Mrs. Foster; then to OC Fair for thrill rides, tasty cold treats & frog legs, elephant rides, and visits to the agriculture and livestock exhibits.
Day 6 - 2011

PHOTOS | We started with a delicious breakfast from Chick-fil-A at the Town Centre before heading over to El Dorado Park's Nature Center for a 1-mile hike in the urban forest. Then we walked next door to Long Beach Animal Care Services for a visit with dogs, cats and other animals while touring and learning from a talk by John Keisler, head of Parks/Rec/Marine's business affairs and head of Animal Care Services. We then drove to Jones Bicycles to pick up new beach cruisers/helmets/locks to enjoy a ride on the beach bike path. We stopped to watch the dogs frolic on Rosie's Dog Beach and created a large "Explore. Dream. Discover." chalk mural on the concrete boat launch ramp at Granada Ave. Then, we joined our families and friends for a BBQ feast upstairs at Lucille's BBQ on 2nd St. Attendees watched a 10-minute slideshow and heard testimonies from campers about the week's activities. Assemblywomen Bonnie Lowenthal gave us an encouraging talk. Finally, we hopped aboard the BIG Red Bus, and Peter Joseph took us for a coastal tour and venture over the Gerald Desmond Bridge. We loaded bikes in the back of volunteers' pickups and delivered the new bikes to their new homes. It was a perfect week for 14 high school students at the inaugural "Camp Justin!"



MORE 2011 PHOTOS
Eric Wilson's photos

2011 STUDENTS
Erika Mendoza-Calderon, Ariana Ramos, Alejandro Garcia, Vanessa Cisneros, Bernardino Rivera, Maria Almaraz, Kathryn Saldivar, Salvador Barragan, Velveth Alarcon, Precious Fabian, Carlos Garcia, Yannel Araujo, Santiago Morales, Erika Lopez

2011 TEACHERS & CHAPERONES
Leslie Gombrich; Ritambhra Jain; Beatriz Nieves; Judy Seal; Ralph Millero, Moses Freyre, Eric Wilson, Andrew Capra, Monique Villa, Jona Nieves.


2011 SPEAKERS
Bonnie Lowenthal, Calif. Assemblywoman; Commander Josef Levy, LBPD; Danny Lowenthal, CA judge; Lee Johnson, CSULB Recycling Center; Mayor Bob Foster; First Lady Nancy Foster; John Keisler, LB Parks/Rec/Marine; Monique Villa, Miss Long Beach 2011; Lu Parker, Miss USA 1994 & current KTLA-TV reporter; Ralph Millero, director of production at 20th Century FOX; Patrick Marks, talent acquisition at 20th Century FOX; and Aimee Hoffman, recruiter at 20th Century FOX; Moses Freyre, cancer survivor; Eliot Freutel, Long Beach Marine Institute; Dr. Donald Para, CSULB provost; Dean Michael Solt, CSULB College of Business Admin; Bruce Vancil, Outreach & School Relations at CSULB; Mark Taylor, director of community and government relations at Long Beach City College; & Riley the Bulldog spoke while we ate cinnamon rolls at Sweet Jill's.

MORE THANK-YOUS
Chick-fil-A, John Howard; Big Red Bus, Peter Joseph; Carol Rheaume (zoo visit); Moses Freyre (backpacks); Spider Energy Drinks; Jones' Bikes; Ralph Millero/Patrick Marks/Aimee Hoffman (20th Century FOX Studios visit)

Sign up for Justin's Email Newsletters


BACK TO TOP OF PAGE



Who is this guy?!
-
Justin Rudd!
, Haute Dogs and Community Action Team (CAT), founder & organizer