MARK TWAIN once wrote: "Twenty years from now you will be more disappointed by the things you didn't do than by the ones you did. So, throw off the bowlines. Sail away from the safe harbor. Catch the trade winds in your sails. Explore. Dream. Discover."

MY MOTTO IS "EXPLORE. DREAM. DISCOVER."

I WANT TO Explore, Dream and Discover as much as possible in my life here on earth, and I want my Web sites to empower, equip and incite others to do the same.

I WANT TO help folks to find something new and exciting to do and experience. That's why I formed my charitable organization and named it the "Community Action Team"— a name that I feel encompasses all the varied activities and events that I have (and will continue to) organized for the good of our community.

WHAT CAN I DO to help you explore your potential, make a dream come true or discover new frontiers? I hope to hear from you.

Yours truly,
Justin Rudd!


THE MAIN PURPOSE of Justin's Community Action Team (CAT) is to promote social well-being among the general public. As a 501c3 nonprofit corporation governed by a board of directors, contributions to CAT are tax deductible and are used to help produce quality events within our community that benefit children, animals, and the environment.

C.A.T. IS AN UMBRELLA organization that includes
4Halloween Kids' Costume Contest
4July 4 Kids' Bike Parade
4Haute Dog Poetry Contest
4Interfaith Blessing of the Animals
4$1,000 National Elementary School Spelling Bee
4Nat'l Adult Spelling Bee
4Belmont Shore Sidewalk Chalk Art Contest
4Haute Dogs on the Beach events
4Haute Dog Howl'oween Parade
4Operation Easter Basket
4Operation Santa Paws
45k/10k Long Beach Turkey Trot
4monthly 30-Minute Beach Cleanups
4Beds, Bikes, Bears & Blankets giveaway to those in need
4Clothing giveaways to the underserved
4Bulldog Beauty Contest
4Mom Prom
4Say, "Cheese" Long Beach 24-hr. digital photo contest
42nd Street Walkers
4Long Beach Giving Project
440-Day Challenge
4Red High Heels Walk


I AM A FIRM believer in the collective power of individuals joined in a spirit of goodwill and generous giving to bring about the success of a community.

-Justin Rudd!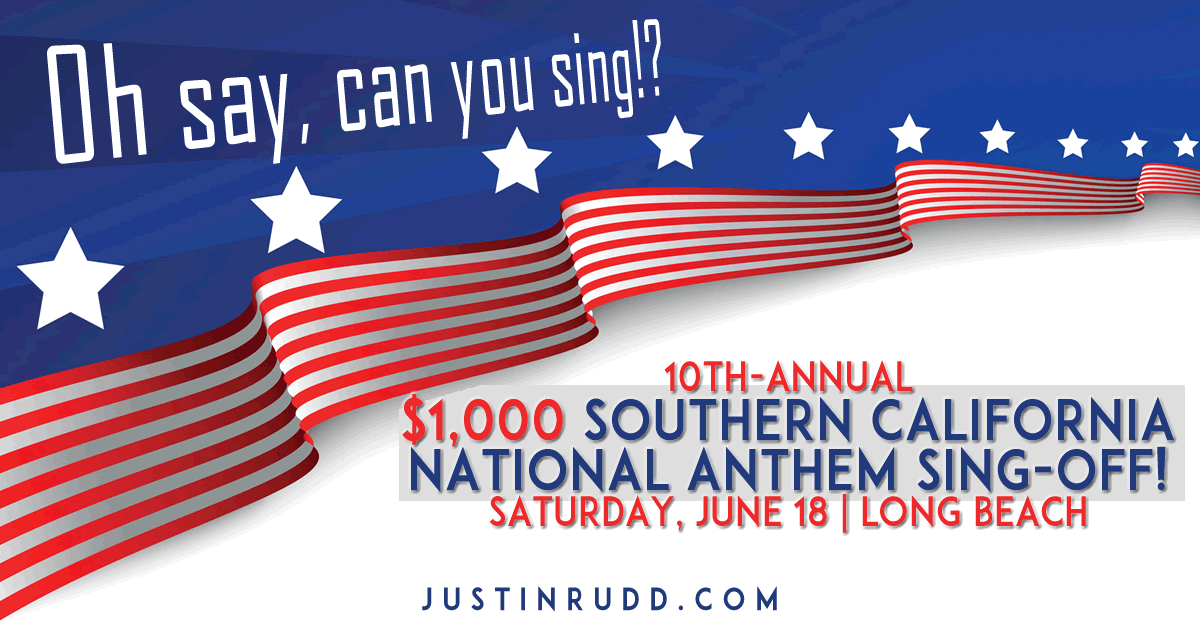 Small groups and soloists welcome. All must sing a cappella. Free entry. Microphone provided.

Oh say, can you sing? Rudd's C.A.T. wants you to sing your way to $1,000 in this National Anthem Sing-off.


Justin Rudd's nonprofit Community Action Team (CAT) is hosting the 8th-annual Southern California National Anthem Sing-Off! Winner will get a $1,000 appearance contract to sing at 20 upcoming Long Beach events (accruing $50 each time you sing at one of our events).

Contact Justin@JustinRudd.com
• Saturday, June 15, 2019
• 10:45 a.m. contest
• 10 a.m. beach cleanup
• 1 Granada Ave., Long Beach, 90803 (on concrete boat launch ramp)
• Free parking til 10:45 a.m. to beach cleanup volunteers and contestants arrived by 10 a.m. when you use the parking kiosk code JR0615.
Contestants may sign-up at the event. All ages welcome. Free entry.

Justin Rudd's nonprofit Community Action Team (CAT) is hosting a Southern California National Anthem Sing-off. Winner will get a $1,000 appearance contract to sing at 20 of about 32 upcoming Long Beach events, including the monthly 30-Minute Beach Cleanups (3rd Saturday each month at 10 a.m.); the 4th of July Kids Bike Parade (July 4), the Haute Dog Howl'oween Parade (Oct.), the Miss Long Beach pageant (Nov.) and the Long Beach Turkey Trot (Nov.). Winner does not have to sing at every event. They can choose which events fit their schedule. The contest does welcome soloists and small groups.
Are you ready to show your patriotism and sing your heart out? We want you to enter our search for the best singer of the Star Spangled Banner.
Entrants are invited to sing a cappella before judges and a crowd of more than 100 volunteers.

All will sing the final part of the first verse of the National Anthem (O say, does that star-spangled banner yet wave; O'er the land of the free and the home of the brave?), and finalists will sing the entire first verse.

A microphone will be provided, and all singing will be a cappella.

The winner will receive a singing contract that will accrue $50 for each performance at 20 of CAT's yearly events, with the first being the 550-kid-strong "4th of July Kids Bike Parade."
The Community Action Team is a nonprofit 501c3 nonprofit that puts on about 60 events/contests/projects a year, mostly targeting the environment, animals, education and youth. For details on CAT and each of the events, visit www.JustinRudd.com.

Sign up for Justin's Email Newsletters



Who is this guy?!
-
Justin Rudd!
, Haute Dogs and Community Action Team (CAT), founder & organizer