REGISTRATION NOW OPEN HERE.





LAST YEAR'S PHOTOS: CLICK






2014 Winners

Best in Show: Shuji Nishimura, Torrance
1st: David Gilmore, Long Beach
2nd: Moe Notsu, Long Beach
Honorable Mention: Becky Bershtel, Long Beach
Honorable Mention: Victoria Lopez, Long Beach
Honorable Mention: Willie Zin, Long Beach
Honorable Mention: Adam Dano, Long Beach
Honorable Mention: Jennifer Ripassa, La Mirada
Director's Award: Lori Escalara, Vista
Director's Award: Brianna Cunha, Lake Forest



<DRAWING A CROWD IN LONG BEACH
12th-annual $1,000 Belmont Shore Sidewalk Chalk Art Contest is Sat., Oct. 17, 2015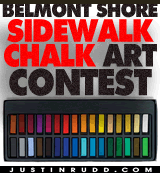 JUSTIN RUDD'S BELMONT SHORE SIDEWALK CHALK ART CONTEST will surely "draw" a crowd on Sat., Oct. 17, 2015, from 9 a.m. to 4:10 p.m. along 2nd St. in the Belmont Shore neighborhood of Long Beach.

Attracting more than 100 seasoned and emergent visual artists, as well as participants from local high schools and universities, the 12th-annual Belmont Shore Sidewalk Chalk Art Contest, presented by Justin Rudd and his nonprofit Community Action Team (C.A.T.), will showcase the works of diverse artists who will use chalk as their medium, and the sidewalks of Belmont Shore as their canvas.



REGISTRATION
NOW OPEN HERE.

CASH PRIZES & RIBBONS
There will be at least $1,000 cash awarded again this year.
- BEST IN SHOW: $350
- 1st Place: $250
- 2nd Place: $150
- Honorable Mentions: five awards @ $50 each
- Director's Awards: $50 to $100 each

OUR PRE-REGISTERED ARTISTS
CLICK HERE

THE CONTEST will take place in Belmont Shore, along the trendy Second St. business corridor, mainly in the blocks between Roycroft and La Verne avenues. Entry, pastels, drawing paper, and a pizza lunch will be free for pre-registrants, aged 18 and older. Those ages 16 or 17 years old are welcome for $20, paid in advance. NEW: Minimum age is 16 for this chalk event.

A 10-piece set of non-toxic pastels (chalk) and an approx. 38" x 50" white Lenox or Stonehenge sheet of premium artist's paper will be provided to all registered artists.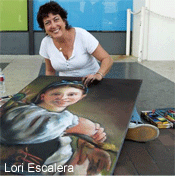 ARTISTS WILL DRAW on premium artist's paper that will be affixed to the sidewalk with blue masking tape. Artists are free to take home their artwork after the judging and/or to sell their art at the event. By drawing on paper, it also allows artists to move indoors if it rains (as it did a few years ago).

SPONSORS

Justin Rudd and his 501c3 nonprofit Community Action Team (CAT) host this event. Media sponsor is Grunion Gazette. This event is part of the Belmont Shore Art Walk.
CONTACT

Event organizer:
Justin@JustinRudd.com


NEWSLETTER
CLICK HERE
to get on our e-mail list for upcoming Long Beach art & photography events.
Rules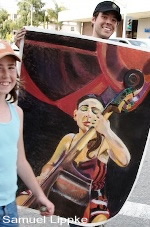 - Only solid pastels may be used. Chalk pastels are recommended.
- There is no required art theme.
- No chalking directly on the sidewalk.

-
Artist's paper (
Lenox 100 Paper 38" x 50", 250g - white, no deckles
) or Stonehenge (does have deckles) will be supplied to pre-registrants. (Example:
Lenox 100 is a 100% cotton sheet made in the USA. Developed by Legion Paper, this fine art print paper has a textured finish and is very popular for most drawing and printmaking techniques. Neutral pH, no deckles.)
- If using your own supplies or pastels, please present them at check-in for inspection.
- Art must be family-friendly.
- No nude or lewd artwork.
- No political, campaign or commercial advertising statements, messages, or drawings.
- No words or symbols intended as advertising or promotion may appear within the
image.
- No stenciling.
- Organizers have the right to disqualify and/or remove any inappropriate art or writing as they may deem necessary.
- Judging based on first impression, creativity, originality, skill, and use of color.
- Digital photos will be taken and used for publicity purposes.
- This contest is for adults and students in high school and college, age 18 and older. Those age 16 or 17 are welcome as non-juried participants for $20, if paid in advance by check to CAT, 5209 E. The Toledo #1, LB, 90803.
- No participants under age 16.
- Not responsible for damage or theft of art work.
- Basic, starter: approx. 10-pieces of chalk and one sheet of artists' paper provided for all pre-registrants.
- Participants are required to sign a liability waiver, prior to beginning to draw.
- Organizers and judges have the right to modify or add to these rules, as necessary.
- Artists are encouraged to sign their work at the bottom of the image area.
SCHEDULE & LOCATION
- Artists MUST sign-in at the table in front of Chase Bank, 5200 E. 2nd St. @ Nieto Ave., from 8:30-9:20 a.m.
-Artists can draw from 9 a.m. to 4 p.m.
-Free pizza/sodas for lead artists: at noon
in front of Chase Bank (friends/family can pay $5 that morning for the pizza/soda lunch)

-Final Judging and awards: 4:10 p.m. in front of Chase Bank.
JUDGES
- TBA

Sign up for our Email Newsletter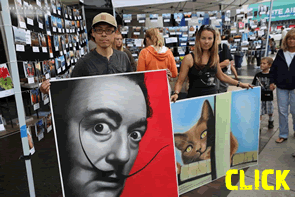 click image above to see photos from last year's contest

Last Year's Lead Artists
| | |
| --- | --- |
| Last Name | First Name |
| Aguirre | Joey |
| Alvarez | Jonathan |
| Antoinette | Lori |
| Arias | Jason |
| Arias | Tiffany |
| Ashley | Lysa |
| Atuncar | Hilda |
| Avila | Benjamin |
| Avila | Adriana |
| Avila | Alexandria |
| Baker | Michel |
| Bershtel | Becky |
| Bince | Jasmine |
| Blaine | Jay |
| Cabrera | Lisa |
| Camp | Richie |
| Caspers | Dan |
| Cendana | Jennifer |
| Cerezo | Eileen |
| Clemmons | Jillian |
| Code | Brian |
| Contreras | Adriana |
| Corbin | Carley Dare |
| Corona | Tori |
| Corral | Melanie |
| Cuellar-Rocha | Priscilla |
| Cunha | Brianna |
| Dano | Adam James |
| Davis | Deserai |
| De Leon | Oscar R. |
| Delgado | Virgy |
| Escalera | Lori |
| Espinoza | Liz |
| Franklin | Jessica |
| Garcia | Adrian |
| Gates | Veronica |
| Gilmore | David |
| Goegebuer | Jade |
| Goff | Pamela |
| Guevara | Marylene |
| Harang | Daniel |
| Harbor | Stephen |
| Haro | Jessica |
| Hayes | Crystal |
| Helm | Cynthia |
| Hernandez | Aaron Edmundo |
| Hernandez | Ricky |
| Hernandez | Mylah |
| Hoeven | Tricia |
| Islas | Luis |
| Keady | Renee |
| Kirk | Lindsay |
| Konysk | Parker |
| Kuznitsky | Cheryl |
| Labastida | Amber |
| Lara | Juan J. |
| Lombard | George |
| Looney | Pamela |
| Lopez | Victoria |
| Luna | Guillermo |
| Mac | Hoa |
| Macias | Ernesto |
| Majdali | Talal |
| Martinez | Abril |
| Mcpolin | Michaela |
| Menjivar | Michael Ray |
| Mojica | Signey |
| Morgan | Meredith |
| Morimoto | Kenta |
| Morris | Joanne |
| Moyado | Natalie |
| Nalapraya | Annastasia |
| Neeley | Shay |
| Neeley | Morgan |
| Nishimura | Shuji |
| Notsu | Moe |
| Nunez | Erik |
| Ojerio | Vicky |
| Olson | Neleigh |
| Onsurez | Aaron |
| Pantaleon | Aleah |
| Pedersen | Ashley |
| Perdomo | Ricardo |
| Perez | Luz |
| Peterson | Alicja |
| Petkus | Nina |
| Phon | David |
| Pimentel | Diana |
| Pinheiro | Ana |
| Quintero | Noel |
| Ramirez | Megan |
| Ramos | Gabriela |
| Rennie | Lorien |
| Reveles | Eduardo |
| Reyes | Alejandro |
| Reyes | Priscilla |
| Richards | Penny |
| Richards | Russell |
| Ripassa | Jennifer |
| Roberts-White | Taylor Ann |
| Sambrano | Destiny |
| Scott | Charlene |
| Slagle | Jason |
| Solis | Renee |
| Somo | Arlou |
| Street | Brad |
| Sundahl | Amy |
| Sweeting | Garrett Sweeting |
| Taft | Isadora |
| Tanaka | Amy |
| Thompson | Terra |
| Tran | John |
| Tuthill | Carol |
| Van Handel | Stephen |
| Ven | Mony |
| Walker | Daniel |
| Walker | Doug |
| Warren | Kristina |
| Whitlow | Carola |
| Williams | Randall |
| Yanes | Marlon |
| Young | Sarila Young |
| Zin | William |

2013 Lead Artists
Lori Escalera

Adrian Maciel
Abegail Lina
Adam Hass
Stephen Harbor
Allison Kripp
Amy Sundahl
Annathalia Nalapraya
Andres Alarcob
Alisa Ogura
Jen Swain
Anthony Rico
Tonya Ivashkov
Eric Quezada
Ashley Olsen
Annastasia Nalapraya
Becky Bershtel
Breanne Patterson
Brianna Cunha
Jason Slagle
Cynthia Helm
Chelsea Carpenter
Christa Everest
Melanie Corral
Cynthia Kostylo
Tim Acquistapace
Doug Walker
Renee Solis
Ever Galvez
Shuji Nishimura
Hoa Mac
Jennifer Ripassa
Diana Durham
Amanda Saunders
Brandon Jackson
Garrett Rodriguez
Vicky Andaya
Ernie Macias
Vicky Ojerio
Jacque Dubois
Jessica Haro
Kent Ohara
Jennifer Cendana
Jocklean Weaver
John Estrada
Jonathan Alvarez
Joseph Blomberg
Mia Dunbar
Juiana Martinez
Kriszanne Napalan
Mie Kawamura
Kimberly Vance
Parker Konyak
Lori Antoinette
Laurie Blowers
Lisa Valaika
Matt Nieblas
Guillermo Luna
Mike Schelly
Somita Lam
Meredith Morgan
Moe Notsu
Kenta Morimoto
Nicole Burton
Neleigh Olson
Nadia Roldan
Oscar R. De Leon
Adrian Garcia
Pat Estes
Sarah Miwa
Richard Mallory
Randall Williams
Renee Keady
Richie Camp
Ricardo Perdomo
Ana Pinheiro
Sam Eames
Shay Neeley
Michaela Shea
Shawn Lemus
Melanie Corral
Aleah Pantaleon
Hilda Atuncar
Ivan Hinojosa
Luz Perez
Signey Mojica
Jasmine Binoe
Stephanie Dillon
Brad Street
Earl Moore
Terri Lancaster
Torrieanne Williams
Molly Traut
Penny Richards
Susan Estrada
John Tran
Victoria Lopez
Patricia Haro
Jason Arias
Maggie Murphy
Destiny Sambrano
Heaven Sambrano
William Russell
Liz Espinoza
Aaron Hernandez
Michael Ray Menjivar
Guillermo Luna

natalie moyado
Carl Maxwell
Gus Moran
Thyda Uy
Morgane Laffiche
Eian Gil
benjamin avila
somita lam
Sara Cervantes
adrian jones
Ryan Keiser
Emily Rhoads
Tony Tomaselli
Laurel Firouzabadi
Hugo Lomeli
Lorenzo Medina
Donna Flores
Candace Medina

Sunny Eddie

Adriana Avila
david gilmore
Alexandria Avila

YOUR NAME HERE

REGISTER NOW FOR FREE
CLICK HERE
2012 Artists
1. Lori Escalara
2. Henry Casas
3. Penny Richards
4. Lauren Tuma
5. Jony Tolentino
6. Diana Roberts
7. Wiliam Zin
8. Athena Roberts
9. Lori Antoinette
10. Mo McGee
11. Becky Bershtel
12. Jacque Keith DuBois
13. Shay Neeley
14. Brighton Smith
15. Daniel Killen
16. Israel Arzaluz
17. Moe Notsu
18. Andres Alarcob
19. Anthony Rico
20. Randall Wiliams
21. Jocklean Weaver
22. Stephen Harbor
23. Ever Galvez
24. Mike Schelly
25. Parker Konyak
26. Nadia Roldan
27. William Russell
28. Shawn Lemus
29. Kimberly Vance
30. Melanie Corral
31. Adrian Maciel
32. Daniel Killen
33. Eric Quezada
34. Christa Everest
35. Shuji Nishimura
36. Chelsea Carpenter
37. Abegail Lina
38. John Estrada
39. John Tran
40. Vicky Andaya
41. Neleigh Olson
42. Ana Pinheiro
43. Jennifer Cendana
44. Adrian Garcia
45. Breanne Patterson
46. Pat Estes
47. Maggie Murphy
48. Susan Estrada
49. Brandon Jackson
50. Terri Lancaster
51. Ernie Macias
52. Garrett Rodriguez
53. Amanda Saunders
54. Julia Anne Bogan
55. Earl Moore
56. John Tran
57. Adam Hass
58. Kriszanne Napalan
59. Jessica Haro
60. Patricia Haro
61. Rachel Banta
62. Kevin Crockett
63. Doug Walker
64. Kiandra Weaver

2013 Winners

Best in Show $350: David Gilmore
1st Place $250: Shuji Nishimura
2nd Place $150 Lori Escalara
Director's Award $50: Moe Notsu


2012 Winners

Best in Show: Willie Zin, Long Beach
1st: Parker Konyak, Long Beach
2nd: Shuji Nishimura, Torrance
Honorable Mention: Lori Escalara, Vista
Honorable Mention: Moe Notsu, Long Beach
Honorable Mention: Randall Williams, Los Angeles
Honorable Mention:
Honorable Mention:
Director's Award: Becky Bershtel, Long Beach
Director's Award:
Director's Award:
Director's Award:
2011 Winners

Best in Show: Moe Notsu, Long Beach
1st : Jennifper Ripassa, Encino
2nd : Lori Escalara, Vista
Honorable Mention: David Gilmore, Long Beach
Honorable Mention: Doug Walker, Long Beach
Honorable Mention: Mike Baker, Long Beach
Honorable Mention: William Zin, Long Beach
Honorable Mention: Shuji Nishimura, Torrance
Director's Award: Julio Jimenez, Winnetka
Director's Award: Anthony Razo Rico, Long Beach
Director's Award: Cecelia Linayao, San Diego
Director's Award: Brighton Smith, Garden Grove

2010 Winners

Best in Show: Lori Escalara, Vista
1st: Julio Jimenez, Winnetka
2nd: Ricardo Perdomo, Long Beach
Honorable Mention: Brighton Smith, Garden Grove
Honorable Mention: Cecelia Linayao, San Diego
Honorable Mention: David Gilmore, Long Beach
Honorable Mention: Amanda Gundrum, Long Beach
Honorable Mention: William Zin, Long Beach
Honorable Mention: Kai Woods-Decker, Malibu
Honorable Mention: Guillermo Luna, Mira Loma
Honorable Mention: Shuji Nishimura, Torrance
Honorable Mention: Samuel Eames, Long Beach
Honorable Mention: Doug Walker, Long Beach

2010 Judges: Ralph Millero, Richard Townsend, Heber Siqueiros, Blair Cohn.

2009 Winners

1st: David Gilmore, Long Beach
2nd: Brighton Smith, Garden Grove
3rd: Shuji Nishimura, Lomita
Merit Award: Cecilia Linayao, San Diego
Merit Award: Rebekah Waites, Signal Hill
Merit Award: Julio Jimenez, Winnetka
Merit Award: Vicky Ojerio, Long Beach
Merit Award: Mike Baker, Long Beach
Best Aquatic Theme: Kristina Marroquin

2008 Winners

1st: Brighton Smith, Garden Grove
2nd: Cecilia Linayao, San Diego
3rd: David Gilmore, Long Beach
Honorable Mention: Lori Escalara
Merit Award: Jason Arias
Merit Award: Parker Konyak
Merit Award: Jamie Kivisto
Merit Award: Julio Jimenez
Merit Award: Diane Nuyon

Other SoCal Chalk & Street Painting Events

- Temecula Street Painting Festival
- Carlsbad Art Splash - Carlsbad
- Belmont Shore (Long Beach) Sidewalk Chalk Art Contest
- Fun With Chalk Street Painting Festival, Mission Viejo
- La Jolla Festival of the Arts
- Pasadena Chalk Festival
- i Madonnari Festival - Santa Barbara
- Redondo Beach Chalk Art Festival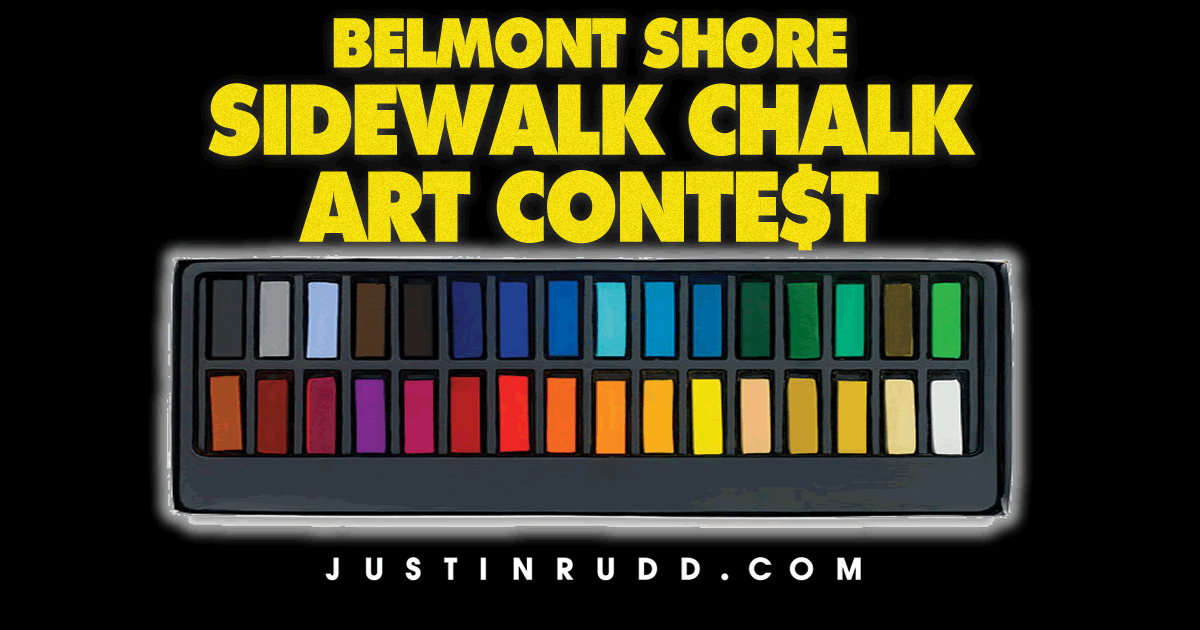 BACK TO TOP OF PAGE